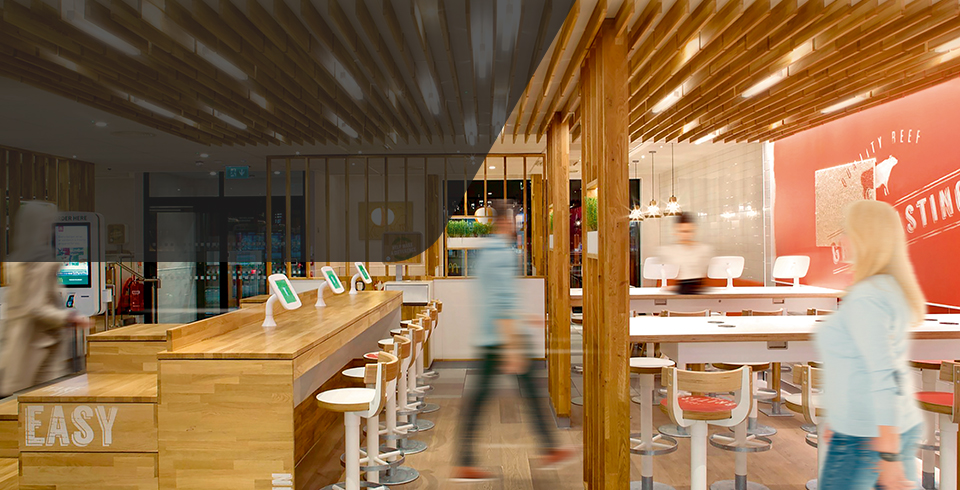 Together McDonald's and Fujitsu have developed
the CARE program
McDonald's UK was searching for a more proactive way of managing its restaurants. The company partnered with Fujitsu to co-create the Customer Aligned Regional Engineering (CARE) program and, as a result, has enhanced the customer experience in its franchise stores.
Quality information leads to better business outcomes, which drives reliability, leading to more uptime and more satisfied customers.

Doug Baker,
Head of IT, McDonald's UK
Significant deployment of technology led to major challenges
McDonald's has more than 1,250 restaurants in the UK and employs around 110,000 people who work together to deliver the high quality food and service that its customers know and trust. As a franchising organisation, around 70% of its restaurants in the UK are owned and operated by local businessmen and women, together serving millions of customers every week.
In 2011, McDonald's UK decided to simplify its onsite maintenance and support. Following a Request for Proposal, it chose Fujitsu to provide a standard break/fix service thanks to the capability demonstrated and the cost-effective model. However, in the intervening years, the company's business has evolved and its support requirements have matured.
"Our business has changed significantly with a significant increase in our use of technology; that meant that the old contract and ways of working needed to evolve," explains Doug Baker, Head of IT, McDonald's UK. "We have around 4 times as much technology in-store, including increased customer facing technologies, which means our reliance on IT is much greater and the need for maximum uptime is even more critical."
McDonald's wanted to design a more agile and proactive way of managing its infrastructure instead of simply responding when things go wrong and incidents arise. The McDonald's team sat down with the Fujitsu team and together they developed a personalised service rather than the one-size-fits-all approach that was previously in place.
"We need to address new market challenges and so we needed a flexible contract that would enable our relationship with Fujitsu to evolve in response to these demands," adds Doug Baker. "Key to this was establishing a more personalized engagement with the franchisees who make up over 70% of our UK estate." (For details please see page 42, Book2)
Customer Profile

| | |
| --- | --- |
| Address | 11-59 High Road, East Finchley, London, United Kingdom |
| Founded | 1974 |
| Employees | 110,000 |
| URL | www.mcdonalds.co.uk |
More case studies