Fast track to your Microsoft hyper-converged IT infrastructure
While converged infrastructure deployment models have greatly improved data centre operations in the last couple of years, many organisations are now looking at hyper-converged infrastructures (HCI) as the next step forward by leveraging the software defined design principles to further streamline the convergence of infrastructure. These systems are designed to be simple, resilient, and agile in order for IT organisations to respond to the needs of their business through the ability to easily adapt their infrastructure to the actual demand.
Research Report: Hyper-converged has come of age
HCI is taking the next step, from 'merely' an efficient platform for business apps to a strategic building block for modern IT service delivery. Check out this research report from FreeForm Dynamics based on a user survey of over 800 senior IT professionals across the world.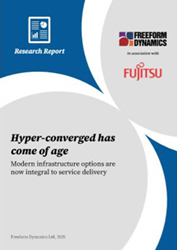 Complete the form and download our paper
Thank you. We have received your request and will get back to you shortly.