EquitasCM eService Portal 
EquitasCM's eServices Portal delivers an eServices solution that truly enables the digital transformation of court and tribunal processes. Enabling the lodgement of documents, submission of supporting documents to cases, the processing of payments, viewing and subscribing to court listings; all achieved through a single self-service portal.
Lodged documents are processed and validated using EquitasCM's integrated workflow and business rule engine. This leads to accurate documents being used for establishing and processing of cases.

Dashboard


Current Listings


Recent documents


Pending payments


Document Lodgement using Electronic Forms Engine


Integrated Payments with payment gateway integration


Court Listing and schedule views


New subscription feature allows you to see you diary on your favourite calendar applications Outlook, iOS & Android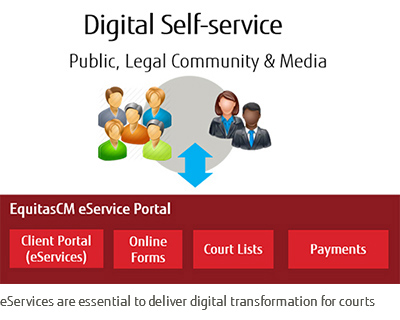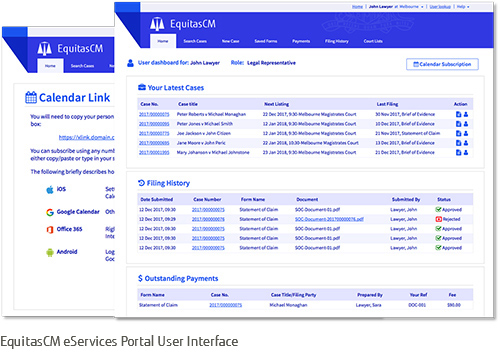 EquitasCM Digital Workspace
The EquitasCM Digital Workspace enables staff and decision makers to collaborate in conducting court matters and proceedings. The EquitasCM Digital Workspace consists of a series of tools for use in-court as well as within the court's registry.
EquitasCM's Digital Workspace contains the following features:

Full workflow process management


Lodgement, Listing, Hearings, Outcome and Enforcements


Configurable workflow and business rules


Outcome and Order Management order/outcomes


Rules driven and template based order/outcomes


Support for financials and payments


Document Production and Dispatch


Template based document generation


Judicial Calendar, Scheduling and Listing Management


Fully automated scheduling rules – designed for volume


Evidence Management


Integrated with document management system


Finance Management


Payments, fees & General Ledger integration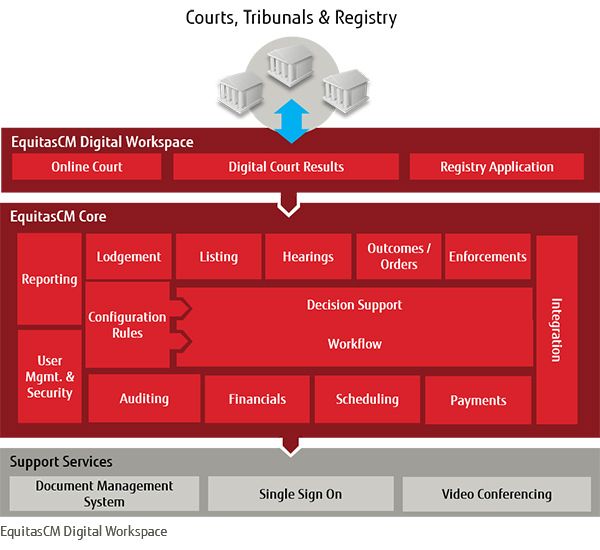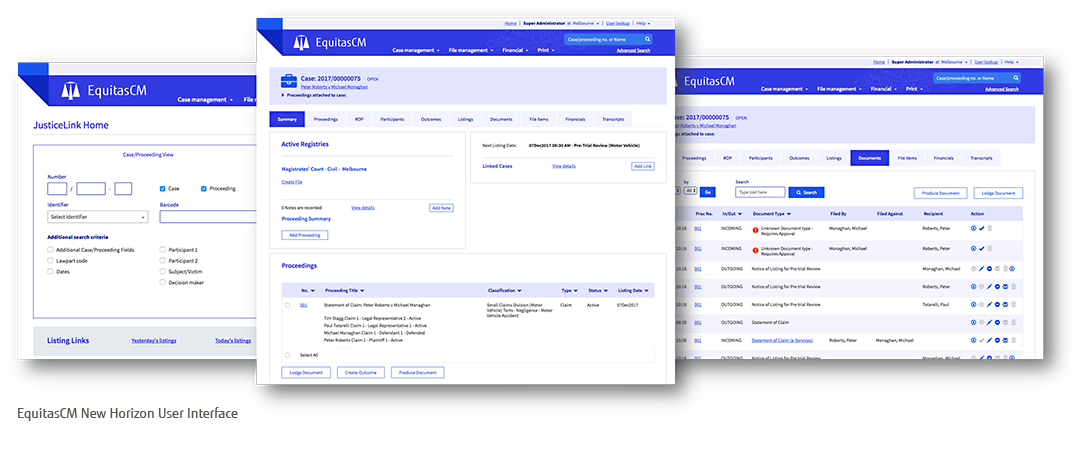 EquitasCM Business Integration Platform
The EquitasCM Business Integration Platform brings courts, law enforcement, other government agencies and business into true digital community. EquitasCM's Business Integration Platform promotes the exchange of data, reduces costs, improves accuracy and improves the speed of business processes.
Key features of the EquitasCM Business Integration Platform enable:

Order Publication


Enforcement Publication


Case and Participant Publication


Bulk lodgement of cases


Joined up justice