EquitasCM (Courts Management) is Fujitsu's leading Courts Management System that delivers digital courts management to Australia's busiest courts. Equitas CM improves the delivery of government services through a number of ways:

increasing the timeliness and accuracy of court processes by implementing each courts legislation and business rules;


reducing paper-based process and encouraging electronic information exchange with other justice sector departments;


reducing the cost and time taken for enforcement and enabling faster response by justice sector agencies to judicial decisions.
EquitasCM Overview  

Suite of applications providing courts management functions.


Contains a library of over 900+ process models.


A configuration model that enables new jurisdictions, documents, processes and rules to be defined without application code change.


A customisation model that enables new logic to be added to the system without major impact on the core application.


Contains a self-service portal that improves client convenience and enables true digital transformation.


A business integration platform that enables other justice stakeholders to join in to deliver a fully integrated justice ecosystem.


A proven scalable system that can meet the needs of both the smallest and largest jurisdictions in the complex court system in Australia.


A Case Management Package that enables "buy not build" for Australian Courts. 


A standards compliant solution that integrates with your environment without complex deployment. 


A way to participate in an on-going programme of product upgrades and enhancement that combines requirements and advances from JusticeLink customers with the depth of skills of one of the largest ICT companies in the world.

A high-performance solution that processes up to three quarters of a million transactions every day.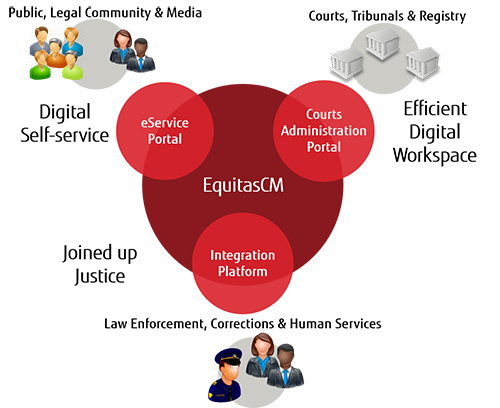 Designed for Australian Judicial System 
EquitasCM delivers efficient and accurate outcomes as it has been specifically designed for the Westminster justice system with a library of over 900 case/proceeding types including:

Magistrates Civil – all case types


Magistrates Crime – all case types


District Civil – all case types


District Crime – all case types


Supreme Civil – all case types


Supreme Crime – all case types


Children Courts Crime


Children Court


Industrial


Environment


NCAT – 3 Divisions


Court of Appeal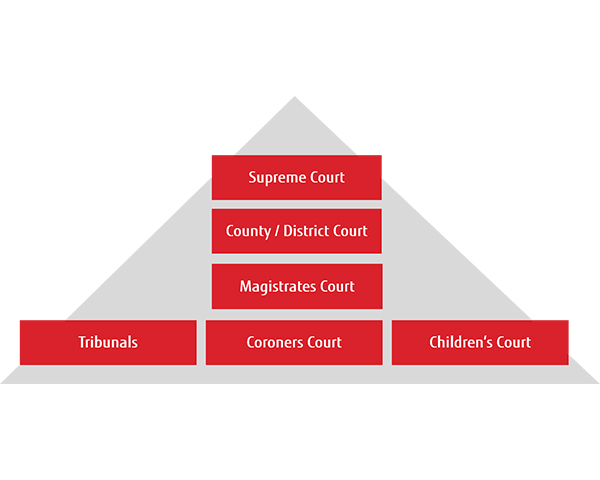 Integrated Courts Administration
EquitasCM offers the full range of court management functions for all participants of the judicial system including:

Registry Staff,

Judges


Magistrates


Legal profession


Business to business information exchange with Police, Banks, Commercial agents


the Public through the integrated electronic services portal
EquitasCM's features include:

Secure integration with client security environments, enabling single sign-on


Court specific workflow that accommodates the court requirements for flexibility and complexity while still simplifying the workload of court registry staff


Enterprise System Services including security, integration, document production and task management


Joined up justice – enabling integration with other government departments. Reduces information exchange costs, improving the responsiveness of government agencies