Security

Fujitsu helps organizations to manage their information security and continuity risks effectively, in-line with their business strategy, providing flexibility in the way they work and enabling secure and resilient business.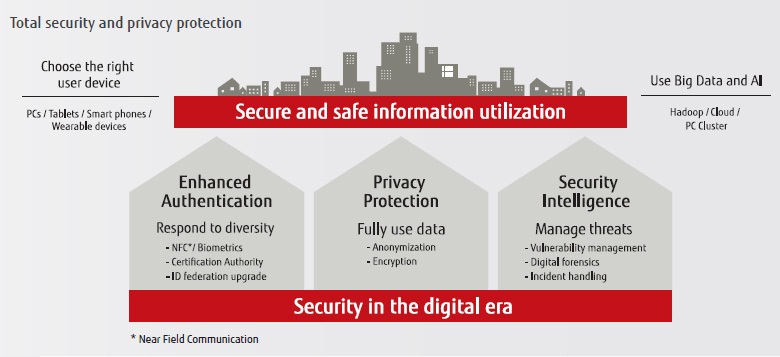 Security in the digital era
The number of ways in which data is used continues to increase as IoT evolves. At the same time, we need to take seriously the rapidly growing security issues. Digital leaders must recognize that security issues cannot be solved with a one-time investment; instead they need ongoing management and attention. To build resillient business and society by using technology safely and securely, it is critical to enhance authentication, maintain privacy, and make use of security intelligence.
Enhance authentication to respond to diversity
An authentication platform is vital for bolstering device security and for connecting physical and digital spaces. This platform strictly controls access under specified conditions, optimizes service levels and quickly detects and prevents improper use. To achieve these outcomes, an authentication platform needs to be made responsive to diverse requirements by introducing, for example, two-factor authentication, or biometric authentication - such as Fujitsu's PalmSecure palm-vein authentication technology which has been adopted by Sberbank in Russia.
Maintain privacy to make full use of data
Ensuring privacy is crucial when using innovative technologies to derive greater value from data. It is necessary to comply with legislation that protects privacy in each country. Fujitsu has developed anonymization technology that securely uses data containing an individual's private information, and homomorphic encryption technology to search and process encrypted data securely. These technologies are delivered as a solution that creates value from data by linking multiple services, while strictly maintaining data privacy.
Security intelligence
Signs of cyber attacks can be detected in advance. While it is not at all easy, potential threats can be averted. To achieve this, however, it is first necessary to collect threat information from all relevant global information sources and to keep abreast of how these threats are impacting on current ICT assets. The next step is to evaluate how to respond to threats, and establish a team of experts that can guard against and manage attacks.
Fujitsu handles hundreds of millions of incidents each day on its internal networks, which connect around 300 group companies globally. Fujitsu accumulates security knowledge and provides this intelligence to customers as a managed security service. For example, Fujitsu managed security service has helped Scottish Water to strengthen its information security defenses. Fujitsu co-creates security intelligence with customers and continually drives security innovation to a new level.
Services, Products and Solutions
Services
Business and Application Services
Information Management
Cyber Security Services – element of both Business and Application Services and Managed Infrastructure Services
In today's world of dynamic and mobile computing, advanced and rapidly changing threats, and other challenges such as Big Data and cloud are becoming much more common and the reactive approach to Cyber Security is no longer enough. Businesses need to adopt a whole lifecycle approach to how they deal with security and it's the joining up of things such as context, proactive intelligence feeds and enhanced visibility that help that happen. To keep up with the aggressive pace of change within an ever changing digital world and to counter the ever expanding threat landscape businesses need to continually evolve their security capabilities. The strength of our strategic vendor relationships, proven experience and global scale means we can optimize our customers' approach to security, protecting their revenue and reputation. We provide organizations with real intelligence and visibility on the state of their environment – identifying vulnerabilities and allowing investment to be prioritized according to where it is needed most. Fujitsu's goal is to enable organizations to operate as productively and securely as possible. This enables organizations to flourish securely with secure access to information on an anytime, any location basis; providing rapid visibility and protection against new threats; or allowing controlled usage of social media.
Fujitsu is a proven global security partner with 40 years of demonstrated capability in providing intelligent security solutions to organisations. Fujitsu's security professionals are trusted advisors with the expertise to enable organizations to prepare for and respond to cyber security incidents effectively and efficiently. Fujitsu also provides guidance on the most appropriate security controls to protect organisations, ongoing management of cyber security capabilities on behalf of customers and undertakes 24/7 security monitoring from its global Security Operations Centres. We use market leading security products and expert professional services to support the assessment of risk, define requirements, provide technical and service design and architecture, as well as ensuring effective deployment and operation of the Managed Security Service. Fujitsu also provides Cyber Threat Intelligence and Threat response services to proactively mitigate against threats as well as providing timely and expert response services to mitigate the impact of security incidents to our customers.
As a global security and service integrator, Fujitsu provides security and resiliency consultancy services across the full delivery lifecycle delivered with the expertise and experience gleaned from years of security and service integration. This allows us to achieve service intimacy with our customers and enables us to shape tomorrow with them. The breadth of customers and partners that Fujitsu works with provide us with a clear understanding of the changing security model and threat landscape and our continually evolving managed security services which are underpinned by threat intelligence services provides consistency of understanding through situational awareness. All our services give customers the 24x7 cover needed to protect their business.
Enterprise Application
Fujitsu's Enterprise Applications services cover the design, development, configuration, implementation, rollout and ongoing management of solutions based on packaged ERP applications. (For a full description, please see the 'Integration' section.)
Software as a Service
Fujitsu offers a wide range of packaged applications as subscription-based services. (For a full description of 'Software as a Service' and offerings, please see the 'Cloud' section.)
Data Center Services
Fujitsu's Data Center Services provide our customers with the complete range of services to ensure their IT systems are fully operational for their users as well as to improve their IT flexibility, efficiency, performance and to reduce their costs. (For a full description, please see the 'Integration' section.)
End User Services (EUS)
Fujitsu's End User Services are for organizations who want to securely access their workplace data and services on any device in any location. EUS enables change, underpins business agility, and delivers business value while driving out costs and improving the user experience. (For a full description, please see the 'Integration' section.)
Solutions
Business and Technology Solutions
Security Solutions
Fujitsu helps organizations to manage their information security and continuity risks effectively, in-line with their business strategy, providing flexibility in the way they work and enabling secure and resilient business - considering also the risks arising from mobility and increased connectivity. The combination of Fujitsu's user security expertise and partnerships with leading security vendors, ensures superior security. Fujitsu's extensive range of user security products and solutions are easy to integrate and can be enhanced with complementary software and hardware offerings to meet unique user security requirements. Two prominent solution examples for authentication / identity management and end-to-end secure IT systems are described as follows:
FUJITSU Biometric Authentication Solutions – based on PalmSecure technology
The Fujitsu Authentication / ID Management solutions provide high reliability and security for a wide range of applications and market segments. This hygienic, contact-less technology uses unique vascular patterns as highly secure personal identification data, increasing user safety and comfort. PalmSecure bioLock significantly improves security by monitoring and controlling SAP system operations using re-authentication at user-specific checkpoints. PalmSecure ID Match is a universal platform for reinforcing ID cards for authentication by combining them with PalmSecure technology. This innovative solution is designed for a wide range of scenarios - supported by our Software Development Kit (SDK), for easy integration within IAM applications. PalmSecure truedentity as a client-/server login/SSO solution can be used as an enhancement for human centric authentication management – based on personalized encrypted certificates, superior security for handling electronic identities and secure transfer of data providing reliable identification for people and organizations who share information. PalmSecure ID Mobile is a convenient method to authenticate, using a smart phone carrying the personal palm vein template inside. For two-factor authentication, the template is automatically transferred for matching with the personal vein pattern to a palm vein reader. New mobile workplace systems as well as desktop and ultra thin clients with integrated PalmSecure technology also increase the security level dramatically. The combination of PalmSecure technology based on Match-on-Device solutions and high level security software is ideal for secured cloud access and secure payment applications.
Additionally we offer with the new PS SL type sensor a small footprint sensor for desktop authentication beside PS mouse and we offer with PS ID ACCESS a highly secure solution for physical access control at buildings Fujitsu's PalmSecure offers customers end-to-end protection for sensitive information and secure access points for front end and data center applications.
FUJITSU Security Solution SURIENT
Transparent user-friendly end-to-end security - from terminal to data center
FUJITSU SURIENT is a family concept of innovative patented end-to-end IT security offerings. It provides secure application environments running on existing infrastructures and enables – dependent on the specific customer requirements - up to highest degree of security, especially for sensitive data and processes. High user-friendliness, easy and smooth integration in existing data center and high performance levels are characteristics of this security concept covering data centers, data transfer and terminals as well as sensors, whereby qualifying this SURIENT also as an ideal platform for future IoT projects.
FUJITSU SURIENT comprises various modules, which can be used individually or in combination. This family concept includes: SURIENT MRS (Managed Rack Solution); SURIENT SRS (Sealed Rack Solution); SURIENT EBS (Encrypted Boot Solution); SURIENT SCS (Stealth Connect Solution) and SURIENT SAS (Sealed Application Solution).
Want to know more?
Nach oben