Software-Defined Connected Infrastructure

The 'FUJITSU Intelligent Networking and Computing Architecture' is a new architecture for next-generation ICT infrastructure. Fujitsu plans to release products that will conform to this architecture across various areas of technology.
Toward virtualized and distributed computing
The future of ICT is moving toward virtualized and distributed computing, where computing nodes are connected via networks and controlled by intelligent software. An autonomous management function will soon be embedded in this ICT environment, which will grow with businesses and operate reliably throughout the lifecycle. Fujitsu calls this future ICT Software-Defined Connected Infrastructure (SDCI). To realize SDCI, Fujitsu has mapped out its next-generation architecture, Fujitsu Intelligent Networking and Computing Architecture (FINCA), and continues to research and develop related technologies.
New network products through FINCA technologies
Leveraging virtualization technology in datacenters, networking functions can now be virtualized in a standard server and integrated with Software-Defined Network (SDN) technologies. This is known as Network Functions Virtualization (NFV). NFV is gaining momentum as it is not only flexible in providing the best connection between cloud and users, but it is also an enabler of 'Edge Computing' and 'Fog Computing' which are important components of the IoT. FINCA-based products have already contributed to enhancing our customers' ICT infrastructure. For instance, PRIMEFLEX realizes hybrid IT, combining clouds and on-premise environments. Fujitsu's Virtuora network product range enables a flexible wide area network and new NFV products are also slated for release.
To be competitive, businesses must become more agile. Fujitsu incorporates software-defined technologies into its PRIMEFLEX and NFV products such as the Virtuora line-up. We continue to develop new technologies that make advanced ICT solutions more efficient and responsive to business requirements.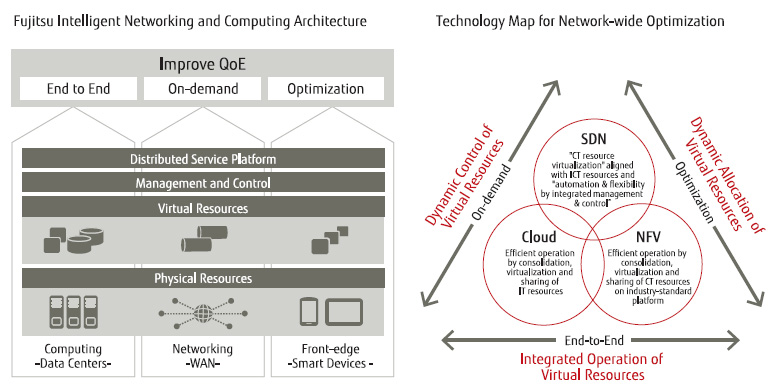 Services, Products and Solutions
Services
Managed Infrastructure Services
Fujitsu's Managed Infrastructure Services provides a cost effective, reliable and flexible ICT infrastructure to customers. This infrastructure may be owned by the customer or Fujitsu on their behalf. Our services comprise Data Center Services, End User Services, Service Desk, Technical & Maintenance Services, Infrastructure as a Service, and Network and Communication.
Network and Communications
Fujitsu's network services for inter-site communications, deliver a carrier-class network infrastructure combining cost competitiveness and security with high performance. (For a full description, please see the 'Mobile' section.)
Global WAN Services
Fujitsu Wide Area Network (WAN) provides global connectivity. This includes Managed WAN, Managed Virtual Private Networks, Managed Wavelength and Managed Firewall Services together with Campus LAN Distributed LAN services.
Products
Software
The penetration of broadband networks has led to an increase of digitalized data flowing through networks. As a result, a variety of services are now provided over networks, such as IP telephony and video distribution services. As next-generation networks become increasingly important to society, network infrastructure has become large and complex. This has created a host of crucial issues for service providers. Issues include network operation and management and problem resolution methods, in addition to quality assurance for network services and infrastructure operation and management. To solve these issues, Fujitsu provides network service management software that enables operation and management and quality assurance for next-generation networks.
Network Service Management Software for Telecom Carrier
FUJITSU Network Proactnes series
FUJITSU Network Netsmart series
Network Service Management Software for Enterprise
Dynamic Resource Management Software
FUJITSU Software ServerView Resource Orchestrator
Network Operation and Management Software
FUJITSU Software Systemwalker Network Manager
FUJITSU Software Systemwalker Network Assist
Network Service Management Software
FUJITSU Software Systemwalker Service Quality Coordinator
Network Virtualization Software
Midokura Enterprise MidoNet
Network
Fujitsu supplies a comprehensive range of network products, including communications systems for carriers and network devices for enterprises. The former constitutes the backbone of our ICT-driven society, such as core networks, metro networks, and access networks. The latter is used to integrate internal networks within enterprises.
SDN/NFV related Software
FUJITSU Network Virtuora series
Blade type Network System
FUJITSU Network 1FINITY series
High-end Router
Fujitsu and Cisco CSR series
Fujitsu and Cisco XR12000 series
Optical Network System
FUJITSU Network FLASHWAVE series
Radio Access Network System
FUJITSU Network BroadOne series
FUJITSU Network FRX series
Router
LAN Switch
Security
Bandwidth Control
Load Balancer
IP Telephony
Unified Communication
Want to know more?
Nach oben