IoT

IoT is a core driver of digital transformation & business innovation and is centered on the benefits of merging people, processes, and things. Fujitsu aims to create an environment to support innovation on a proven IoT platform, powering digital transformation with IoT solutions and services for the transformative enterprise. Our strong portfolio of our own intellectual property is combined with a broad ecosystem of partners. Our IoT solutions range from enterprise wearable devices, middleware applications, to standardized business solutions for customer verticals.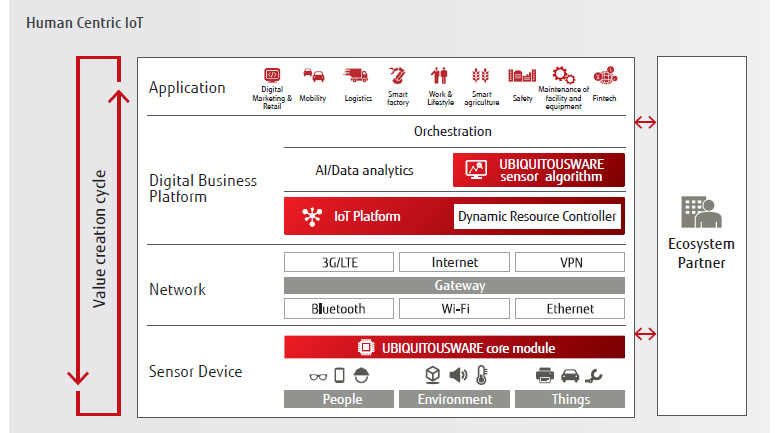 The IoT empowering people
Organizations need to take action to protect their position and legacy under the changing business environment. They must recognize the importance of disrupting the market before one of their competitors does. Fujitsu can help enterprises digitalize with confidence, and innovate by safely balancing the use of new technologies - such as IoT - with traditional technologies. Real-time access to information is crucial for optimizing business models. From workplace solutions to wearable technologies, and from sensors to the cloud, technology should support people and empower them naturally and unobtrusively.
Realizing human centric IoT
The core of Fujitsu's IoT capability is the IoT platform offered as part of MetaArc. This platform provides data aggregation and management as well as application development services and device management capabilities. The dynamic resource controller of the IoT platform enables optimized distributed processing between the edge and cloud computing according to changes in traffic. In addition, leveraging our long history in mobile device innovation, Fujitsu has developed the Ubiquitousware range of IoT solutions to boost productivity and ensure the safety of workers in the field. Fujitsu GlobeRanger also offers a management function for IoT devices, which has been introduced by many customers such as the Richardson Police Department in Texas. Fujitsu RunMyProcess further adds rapid application and business process development capabilities for IoT solutions.
Co-creating a global ecosystem
To achieve digitalization companies can no longer operate alone. Fujitsu works with a broad ecosystem of partners to provide end-to-end solutions that suit various customer requirements. We have strengthened our strategic partnerships with Cisco, Microsoft, and Intel with a new specific focus on IoT. We also operate both globally and locally with a network of other partners to meet the evolving needs of our customers. Fujitsu is a member of the Industrial Internet Consortium (IIC), and is the sole Asia-headquartered steering committee member. As part of our work with this body, Fujitsu has contributed to the IIC via a factory visualization and analysis test bed that incorporates solutions deployed at our Yamanashi and Shimane factories. To realize the benefits of connecting people, information, as well as things and infrastructure, Fujitsu aims to create an environment that supports innovation on a proven IoT platform and solutions.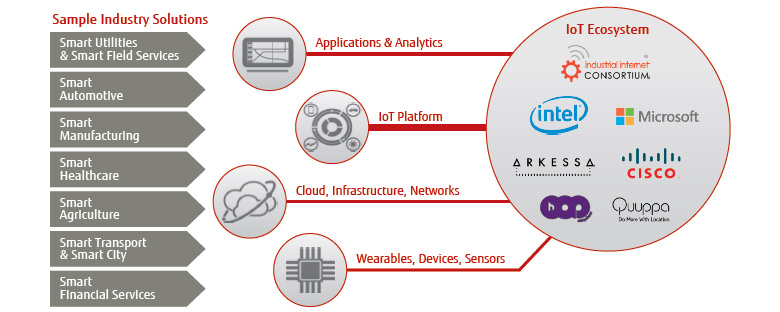 Special Issue: Human Centric IoT
FUJITSU SCIENTIFIC & TECHNICAL JOURNAL (FSTJ) October 2016
Find out more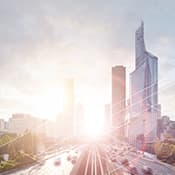 Services, Products and Solutions
Services / Solutions
Industrial IoT Solutions
Fujitsu's long and comprehensive global experience means we have been able to develop expertise across a number of industries. Working together with customers we drive value by utilizing industry specific expertise to provide standardized business solutions that fit their industry needs.
Smart Utilities & Energy
Field Worker Monitoring and Alerting: Sensors monitor personnel, guide workers through the environment and alert in man-down scenarios. The presence of noxious gases and radiation is also detected and alerts are sent immediately.
Smart Manufacturing
Predictive Failure, Remote Maintenance & Support Services: By collecting and visualizing the current condition of industrial/ engineering machines, failures can be predicted and proactively addressed during normal maintenance cycles
Factory Management Optimization through Data: By collecting environmental and production data and displaying key indicators and/or changes to management, decision makers are able to make timely adjustments to optimize production of the factory
Smart Transportation & Logistics
Shipping and Storage of Sensitive and Perishable Cargo: Sensors placed on highly sensitive cargo to monitor the environmental conditions and tags to track the progress of cargo trough the supply chain.
Smart Retail
Retail Engagement Analytics: By collecting customer location information as they visit the store, retailers are able to understand customers trends and customer locations within the store for optimizing interior layout, etc.
Other Industries include: Smart Automotive, Smart Financial Services, Smart Cities (see SPATIOWL), Smart Agriculture
Applications & Analytics
Connections create data. Real-time access to information and insights are crucial in optimizing business models. We provide various applications that can be used to power and derive value from IoT-generated data. Fujitsu's Enterprise Applications services cover the design, development, configuration, implementation, rollout and ongoing management of IoT solutions based on packaged software applications. Additionally our Application Development and Integration Services ensure a smooth and efficient integration of all building blocks, as well as the integration of the overall solution into the customer's IT landscape.
IoT Platform
The core of Fujitsu's IoT capability is the cloud based IoT Platform offered as part of Digital Business Platform MetaArc. This platform provides data management, aggregation, and analytics alongside application development and device management capabilities.
Cloud, Infrastructure, Networks
Today's hyperconnected world means billions of elements generating data and a huge increase in the number of people using streaming services. The network of the past is no longer adequate. The entirety of computing, wide-area networking, and M2M communications will be abstracted and controlled by intelligent software. Fujitsu offers a range of options for quickly building and scaling private clouds and hybrid clouds, in addition to our next-generation public and private hosted cloud services based on open source technologies.
(Please see Cloud section, and Network section for more information.)
Enterprise Wearables, Devices, Sensors
Ranging from embeddable sensors to smart tags and badges, to fully integrated Vital Sensing Bands and Head Mounted Displays, while building on the base of its Human Centric Engine, we offer UBIQUITOUSWARE as the front-end interface for Human Centric IoT.
Want to know more?
Nach oben