Cloud

Cloud is a style of computing that enables computing resources such as servers, storage and software to be consumed easily and on-demand. Fujitsu's Cloud is the foundation of our digital services, delivered in a range of styles to meet customers' needs for security, data regulation and business agility.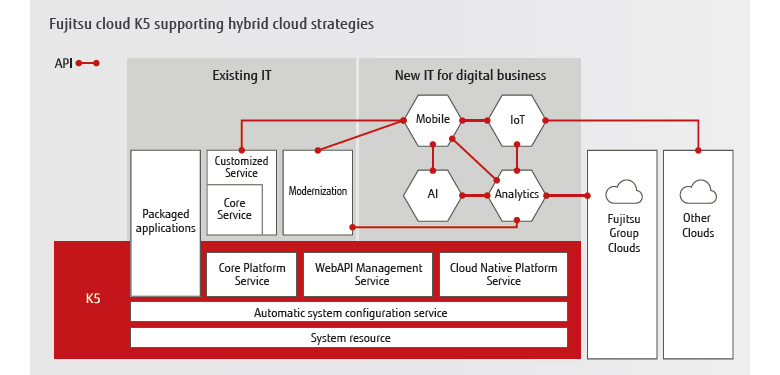 Cloud, evolving with business growth
In the digital era, different businesses and services are connected and interact via APIs to create new value. Cloud technology is the basis for such connectivity and is evolving rapidly as a result of open technology community activities. Fujitsu's K5 cloud service provides the foundation for MetaArc. It is built on open source technologies such as OpenStack for IaaS and Cloud Foundry for PaaS. As an active participant in the development of these technologies, Fujitsu ensures that its customers can use the latest offerings reliably as soon as they become available.
Hybrid cloud using open technologies
According to research in Japan, around 40% of respondents are developing a hybrid cloud to gain the benefits of both cloud and on-premise implementations.* To address the growing demand for hybrid cloud solutions, K5 offers four different cloud services from public cloud to dedicated on-premise private cloud, which can be chosen based on the needs in security, performance and cost. Fujitsu also provides a private cloud product called PRIMEFLEX. Because these clouds adopt the same open source technologies and architecture, it is very easy for an organization to develop a hybrid cloud environment.
Digitalization services
K5 provides various services to drive digitalization and enable the alignment of new IT systems with existing systems. To realize a new digital service, K5 provides a mashup style of DevOps service, that enables agile application development. A Web API management service is also available for managing internal and external APIs. It makes connections to different services much more straightforward, broadening the availability of services through the marketplace.
Multi-cloud integration
Fujitsu's activity in open communities helps us to ensure interoperability with other cloud offerings that also use open source technology. Fujitsu provides a multi-cloud integration portal that enables the management of multiple cloud services and virtual systems. We also offer a network hub for hybrid connection. With these, Fujitsu enables multi-cloud integration between a customer's own cloud and a partner's cloud, to fully support our customer's hybrid cloud strategy. This capability will enable the strategic use of ecosystems to drive business growth.
* MM Research Institute "Cloud service trend in demand/Japan" November, 2014
FUJITSU Digital Business Platform MetaArc
MetaArc is Fujitsu's enablement platform that provides our customers with the technologies, solutions, services and capabilities to digitize with confidence. In essence, via MetaArc, Fujitsu help customers establish a strategic cloud foundation to transform their business digitally through coordinated, 2-speed IT delivery to:
Deliver new cloud based solutions for digital business initiatives, leveraging technologies such as enterprise mobility, big data analytics and the Internet of Things
(we call these Fast IT)
Modernize existing (Robust IT) systems, integrate these with the new Fast IT initiatives and to exploit the value from their existing investments
Reduce the complexity and costs of effectively managing the resulting IT landscape of cloud alongside traditional IT – which we call Hybrid IT
MetaArc makes it easy for the businesses to exploit the cloud services they need to be competitive, while the organization enjoys the peace of mind from being confident that risks, costs and benefits are being managed robustly.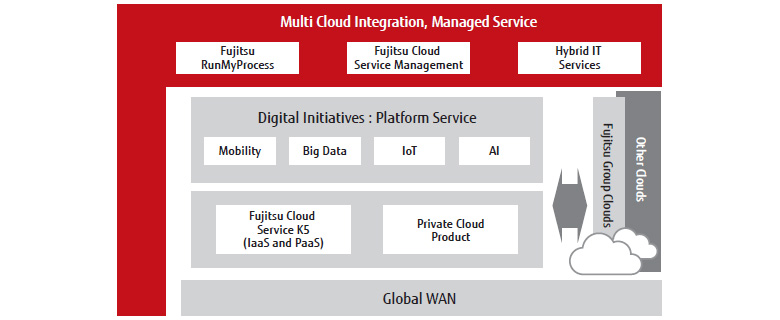 Services, Products and Solutions
Services
Business and Application Services
Software as a Service
Fujitsu offers a wide range of packaged applications as subscription-based services - supported by implementation, customization and integration services - including on-demand apps for office productivity, IT management, and other key industry and enterprise applications.
FUJITSU Cloud Backup as a Service
FUJITSU Cloud Backup as a Service replaces traditional on-site tape-based data protection solutions with one that is disk-based, agile, scalable, easy to use and secure. Delivered on-demand and pay-as-you-grow, the services include all features required of a self-service backup solution including management and reporting services via an Internet portal.
Where customers have distributed sites, network connectivity limitations or on premise data requirements, the Backup as a Service Rapid Recovery Appliance is available. The Rapid Recovery Appliance combines pre-configured hardware, storage and software to create a local backup and recovery device that can be implemented quickly, performs at LAN speeds while at the same time using the Fujitsu Cloud to provide secure cloud-based offsite protection for a secondary copy of the backup data.
All data is de-duplicated and compressed at source before being committed to the Backup as a Service Vault (the storage location for backup data on the Fujitsu Cloud or on a Rapid Recovery Appliance). Data can be encrypted at source before it is sent to the Vault, it is encrypted while in transit by default and remains encrypted when stored in the Vault therefore ensuring only the customer can access the data.
Platform as a Service (PaaS)
PaaS includes application platform services to support mission-critical and cloud native applications. Our PaaS comes with System Factory Services which enables organizations to design, deploy, test, distribute, operate and maintain systems. System Factory Services comprise Uforge from UShareSoft, a Fujitsu acquisition in October 2015. With UForge, Fujitsu provides customers with unique, enterprise-class application delivery software for automating the build, migration and governance of applications in multi-cloud environments.
We support the modernization of legacy resources and the transformation of systems to assure business agility with Elastic Application Works and provide Cloud Foundry for fast development and deployment of cloud-native applications. With extensive Web API management we allow the easy modernization of existing backbone legacy systems.
Fujitsu Cloud PaaS RunMyProcess
Fujitsu RunMyProcess is a unique cloud platform that enables hundreds of leading companies in over 45 countries to remove the technology barriers to digital transformation. This innovative platform empowers enterprises to rapidly create, deploy and distribute highly customized enterprise and mobile business applications designed to meet their specific needs - unifying user experiences, connecting information systems, accelerating time to value and enabling digital scale.
FUJITSU Cloud Enablement Services
This provides a platform with standard functions needed to build and operate a customer's SaaS, such as an enterprise app store, ID management and authentication, and subscriptions and fees. This service lets companies focus on developing and operating the applications and packages that are at the core of their business, increasing their productivity and dramatically speeding up the process of launching a SaaS by as much as a factor of six (from approximately one year to approximately two months, according to Fujitsu research).
FUJITSU Cloud A5 for Microsoft Azure
Fujitsu works with other cloud providers to ensure the optimal mix of private, public, on-premises and hosted cloud solutions is achieved. Fujitsu is the world's first Microsoft partner to be able to deliver Microsoft Azure as a cloud service. Fujitsu Hybrid Cloud Services links Microsoft Azure-based components to Windows Server-based components, running either on premises or on a Fujitsu cloud platform.
Managed Infrastructure Services
Data Center Services
Fujitsu's Data Center Services provide our customers with the complete range of services to ensure their IT systems are fully operational for their users as well as to improve their IT flexibility, efficiency, performance and to reduce their costs. (For a full description, please see the 'Integration' section.)
Managed Hosting – cloud and non-cloud systems
We provide a range of managed hosting services to meet your specific business needs. These cover every aspect of implementation and management for your compute and storage environment, including platform and directory services, infrastructure applications and database environment. Each service offers a range of options to allow you to select the package that is right for your business.
Infrastructure as a Service (IaaS)
Fujitsu Cloud IaaS deliver flexibility and value with the necessary high level of security and service quality expected from enterprise-class IT. The Fujitsu cloud IaaS portfolio includes public cloud, virtual private cloud and both on- and off-premise private cloud.
FUJITSU Cloud Service K5
FUJITSU Cloud Service K5 is our next generation cloud platform. FUJITSU Cloud Service K5 combines the value of open source technologies and Fujitsu's expertise and experience. The integrated Infrastructure as a Service (IaaS) and Platform as a Service (PaaS) functionality supports both robust IT and fast IT through the same platform. FUJITSU Cloud Service K5 is a single standard platform which is available globally – it is based on a common architecture and can flexibly be deployed as private or public cloud, on premise or in a Fujitsu data center. FUJITSU Cloud Service K5 is based on OpenStack for IaaS and CloudFoundry and Fujitsu own-IP for the PaaS capability. The use of Open Source ensures speed of innovation, avoids vendor lock-in and delivers cost efficiencies. Fujitsu is adding enterprise-grade features to OpenStack which makes FUJITSU Cloud Service K5 an ideal platform of choice for mission-critical systems.
FUJITSU Cloud Service K5 Private Hosted
In accordance with geographical regulations governing where data is stored and processed, as well as a need for organizations to consider local customer sentiment, Fujitsu will offer Cloud Service K5 Private Hosted from Data Centers around the globe. The platform will provide tailored services specific to regional needs and makes it an ideal solution for running your enterprise class production system such as Microsoft, Oracle and SAP on a pay-as-you-use basis.
FUJITSU Cloud IaaS Trusted Public S5
Trusted Public S5 provides a pool of scalable, robust, secure and customizable, virtual IT resources, available on demand on a pay-as-you-use basis. Designed from the ground up with business users in mind, it delivers enterprise-grade performance with high availability. It is delivered via our global network of data centers - in Japan, Australia, USA, Singapore, UK and Germany- to provide cost-effective and secure access to on demand infrastructures.
FUJITSU Cloud IaaS Private Hosted
In accordance with geographical regulations governing where data is stored and processed, as well as a need for organizations to consider local customer sentiment, Fujitsu offers IaaS Private Hosted from over 30 Data Centers in 16 countries. This platform provides tailored services specific to regional needs and makes it an ideal solution for running your enterprise class production systems such as Microsoft, Oracle, and SAP on a pay-as-you-use basis.
Network and Communication
Fujitsu's Network services for inter-site communications, deliver a carrier-class network infrastructure combining cost competitiveness and security with high performance. (For a full description, please see the 'Mobile' section.)
Global WAN Services
Fujitsu Wide Area Network (WAN) provides global connectivity. This includes Managed WAN, Managed Virtual Private Networks, Managed Wavelength and Managed Firewall Services together with Campus LAN and Distributed LAN services.
Products
Integrated Systems
Private Cloud Infrastructures
Fujitsu offers a range of options for quickly building and scaling private clouds and hybrid clouds. The pre-integrated IT infrastructure solutions combine high-performance and energy-efficient hardware, a holistic operating environment, an optimized deployment service together with a comprehensive professional service portfolio to reduce complexity in design, build and operation of private cloud infrastructures.
FUJITSU Integrated System PRIMEFLEX for VMware vCloud
This solution is based on a reference architecture consisting of servers, network and storage hardware, plus VMware virtualization and management software for building an Infrastructure as a Service platform. The reference architecture leverages Fujitsu design and configuration best practices. It is optimized to reduce complexity in the design and build phase of a VMware vCloud environment – and at a significantly lower cost compared with do-it-yourself approaches.
PRIMEFLEX vShape
The Solution for virtual infrastructures FUJITSU PRIMEFLEX vShape is an infrastructure solution for VMware or Hyper-V environments integrating the expertise and technologies of leading manufacturers of servers, storage systems, and networks. These are PRIMERGY servers from FUJITSU, ETERNUS storage systems from FUJITSU or FAS systems from NetApp and switches from Brocade. All these components are ideally synchronized for defined software packages and validated as a single solution. vShape reduces integration and implementation time and risks of building virtual infrastructures.
FUJITSU Integrated System PRIMEFLEX Red Hat OpenStack
In order to reduce the various risks that can impact time lines and budgets in the implementation phase of a complex private cloud project, Fujitsu and Red Hat jointly invented a converged infrastructure solution for OpenStack private cloud IaaS deployments. FUJITSU Integrated System PRIMEFLEX for Red Hat OpenStack provides an enterprise hardened OpenStack platform and combines a high-performance and energy-efficient Fujitsu/Brocade hardware stack, the market leading RedHat Enterprise Linux OpenStack Platform, one stop support and a comprehensive professional service portfolio – all in one package. PRIMEFLEX for Red Hat OpenStack is the most reliable way to deploy a highly flexible, open and cost-effective OpenStack private cloud IaaS platform.
FUJITSU Integrated System PRIMEFLEX for VMware VSAN
PRIMEFLEX for VMware VSAN uses the local storage capabilities of FUJITSU Server PRIMERGY to achieve a logical central storage. In order to overcome complex compatibility and best-fit issues, Fujitsu has generated the pre-tested reference architecture PRIMEFLEX for VMware VSAN (cf. 'VSAN Ready Nodes'). The reference architectures are approved by Fujitsu and VMware and reduce the implementation time and risks involved in building virtualized infrastructures. This solution provides simple, delicate and linear scalability that is unmatched.
FUJITSU Integrated System PRIMEFLEX for Cloud
PRIMEFLEX for Cloud includes a Starter Kit as an all-in-one start up solution for easy-to manage and reliable cloud infrastructure with minimum deployment effort. This pre-tested solution provides configuration templates for server, storage, network, virtualization and cloud resource management software. This will allow the customer to remove the need for complex design requirements, reduce deployment time and enable smooth transition from their traditional systems.
Want to know more?
Nach oben