Analytics

Fujitsu helps organizations to ensure their business is generating maximum ROI across their customers and operations by placing data and analytics at the heart of what they do. Fujitsu delivers end-to-end smart data and analytics approaches, based on advanced technology and analytical expertise.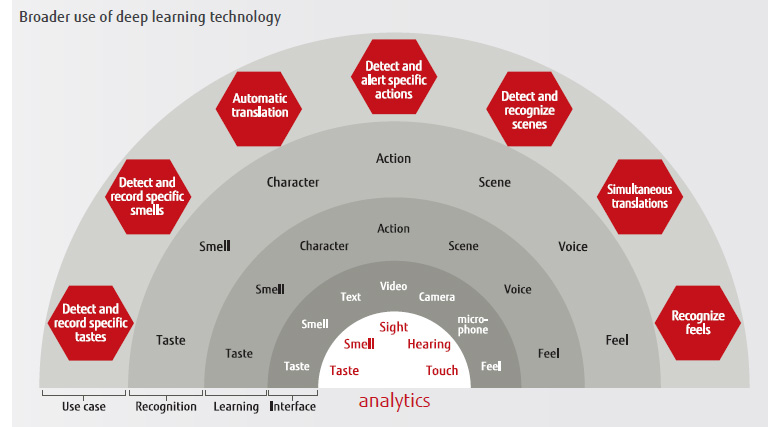 Evolving analytics to enable innovation
Analytical practices are expanding from the areas of descriptive analysis, which analyzes facts about what has happened, to the areas of predictive analysis, which provides insights into what is likely to happen and which options are best. In recent times, big data analysis has become accessible to enterprises. Big data analysis can uncover the instinctive behavior of people affecting business outcomes (e.g., predicting customer visits or the likelihood of membership termination). It can also extract valuable knowledge from data, which previously was the realm of only professionals and experts (e.g., predicting equipment failure and product quality). Fujitsu provides a range of analytics service as part of MetaArc, to help our customers achieve digital transformation.
Using machine learning and deep learning
Anomaly analysis is a capability that uses machine learning*1 to enable us to predict equipment failure. Fujitsu has developed a technology which automatically identifies signs of failure by analyzing huge volumes of sensor data generated in a factory. This technology is incorporated in Fujitsu's analytics software to predict equipment failure. Furthermore, we have also begun offering a new service that uses deep learning technology.*2 It enables computers to recognize patterns in a similar way to how people use their five senses. As a result, computers can independently analyze much more complex data, which previously required professionals with expert skills. As this type of technology evolves, it will enable businesses to automate more tasks, and free people up to focus on more valuable activities.
With a comprehensive range of offerings
A full suite of technologies and expertise in analytics, as well as integration capabilities, are required to apply analytics to a business in an effective manner.
- Networks and storage for collecting data
- Data scientists to plan and perform data analysis
- Huge computing resources for big data analysis
- Technology and expertise to incorporate resulting knowledge into an IT system
Fujitsu provides data analytics services to various industries and sectors. For example, Fujitsu offers its Engagement Analytics solution for retail. This solution analyzes data from various sources using Fujitsu's patented Flow Discovery technology. Through detailed analysis of shoppers' behaviors, retailers can improve their shopping experience. Fujitsu supports customer innovation by providing a comprehensive range of analytics solutions and services.
*1 Technology that provides computers with the ability to learn as a human does without being explicitly programmed
*2 The latest machine learning algorithm that uses neural network computing
Services, Products and Solutions
Services
Business and Application Services
Business Consulting
Big Data Consulting Services
Fujitsu's Big Data Consulting Services are designed to identify the opportunities and implications of Big Data for the business. Business- and customer-specific use cases, and their business implications and value are jointly elaborated and prioritized. Fujitsu supports the development of Big Data strategies and detailed evaluation of required capabilities and technologies.
Business and IT prerequisites to achieve the business goals are made transparent.
Analytics Services
Our SMART Analytics services blends statistical, marketing, strategic, and consultative knowledge to help customers achieve their business objectives profitably and efficiently.
SMART Analytics are based on capabilities about Data Enhancement, Customer Intelligence, Customer Management, Channel Optimization.
We deliver tried and tested analytical programs providing key building blocks to enable you to gain a competitive advantage across a number of areas in addition to bespoke Analytics approaches.
Application Development and Integration
Integration Services and Maintenance Services
Big Data infrastructure solutions are typically combinations of concepts and technologies. Fujitsu Integration Services ensure a smooth and efficient integration of all building blocks, as well as the integration of the overall solution into the customer's IT landscape. In addition, Fujitsu will take over the maintenance of the overall solution.
Software as a Service
Fujitsu offers a wide range of packaged applications as subscription-based services. (For a full description of 'Software as a Service' and offerings, please see the 'Cloud' section.)
Platform as a Service
FUJITSU Cloud Service K5 provides a rich set of Platform as a Service capabilities which provide customers with rapid application development and deployment so they are able to quickly respond to new market requirements.(For a full description of 'Platform as a Service' and offerings, please see the 'Cloud' section.)
Managed Infrastructure Services
Fujitsu's Managed Infrastructure Services for Big Data comprise the complete range of services to ensure our customers' IT systems are fully operational while improving their flexibility, efficiency, performance and reducing costs.
Products
Software
Fujitsu provides a systematic lineup of software products designed to facilitate the use of Big Data. This lineup features software products that customers can easily use on-site. Fujitsu has developed, through implementation of Platform Services for Data Utilization, a cloud service for utilizing Big Data. In addition, we have helped customers utilize Big Data by making it simple to install and operate, and by providing an ecosystem that makes it easy for customers to combine software with other products including open-source software.
Middleware
FUJITSU Software Interstage Big Data Parallel Processing Server
FUJITSU Software Interstage Big Data Complex Event Processing Server
FUJITSU Software Interstage Terracotta BigMemory
FUJITSU Software Symfoware Analytics Server
Integrated Systems
Under the name of FUJITSU Integrated System PRIMEFLEX, Fujitsu provides a broad lineup of Integrated Systems for customer's marketing innovation.
(For a full description, please see the 'Integrated Computing' section.)
Big Data and Analytics
FUJITSU Integrated System PRIMEFLEX for Hadoop
PRIMEFLEX for Hadoop is a powerful and scalable platform analyzing Big Data volumes at high velocity. PRIMEFLEX for Hadoop combines the advantages of pre-configured and pre-tested hardware based on industry standard components with open source-software provided by Cloudera and Big Data analytics software provided by Datameer. PRIMEFLEX for Hadoop is provided as a ready-to-run integrated as well as a Reference Architecture for flexible deployment, and enables business users to uncover hidden information from huge amounts of data. In addition, strategic Big Data consulting, analytics consulting, consulting for Hadoop, and integration and maintenance services, are supplementing the offering.
FUJITSU Integrated System PRIMEFLEX for SAP HANA
PRIMEFLEX for SAP HANA enables simplified, fast and secure implementation and operation of SAP HANA. The pre-defined and pre-tested infrastructure solution is based on SAP-certified components and supplemented by a broad services portfolio. It helps customers fully exploit the potential of SAP HANA and accelerate and innovate their business processes. In addition PRIMEFLEX for Analytics and PRIMEFLEX for Oracle Database are available for Japan.
Want to know more?
Nach oben