Digital Leadership
Business leaders have very high expectations of digitalization. Today's enterprise IT systems need to be much more flexible and reliable than ever before. Digital leaders such as CIOs and Chief Digital Officers are challenged with driving digital transformation while managing existing IT assets.
Digital leaders need to drive the development of creative talents, to use information to discover new insights, and to connect infrastructure together to generate new value. In order to realize these things, we recommend five practical steps for digital leaders to take.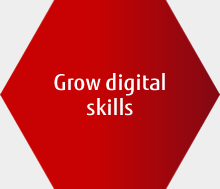 Digital leaders must develop skills for achieving digital transformation in their organizations, and for empowering employees with digital technology. Not only will CIOs need to plan for developing skills in individuals, but they will also need to build teams that are multi-skilled.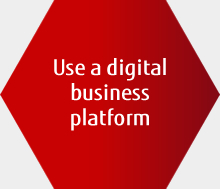 In the digital era, the competitiveness of a business will be measured by the strength of its connectedness within the organization as well as with its external ecosystem, for example how many robust value-creating connections it has with partners.
A digital business platform is the key to achieving this. A digital business platform enables an organization to empower its employees, to use intelligence derived from data, and to build fast, reliable connections both internally as well as with the external ecosystem. In addition, the platform must provide resilience against increasing threats to cyber and physical security.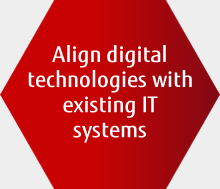 CIOs are challenged with using digital technologies to achieve growth and profit, as well as keeping existing IT systems running and modernized. This involves managing two different systems: innovative technology for digital business and existing IT assets for core tasks.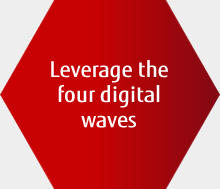 Digital technology has grown through four major waves of development: the internet, mobile internet, IoT, and AI and robotics. Many digital leaders have programs underway for leveraging the internet and mobile technologies. Digital leaders need to understand the implications of these new digital technologies and build strategies. Furthermore, the successful digital leaders will work out how to integrate technologies from the different waves.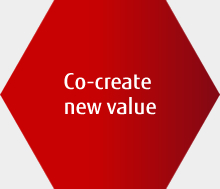 In the digital era, the borders of existing industries are increasingly blurred and become fluid. Diverse digitalized products and services will be connected via software, exchanging information, and delivering greater value for people. Innovation often requires co-creation with customers and partners. To find new value, it is effective to take a design approach and verify concepts and business models via a Proof of Concept (PoC) and a Proof of Business (PoB). An agile development method is used to deliver the result.
Fujitsu wants to share your challenges and objectives with a strong focus on business and social outcomes. Our digital business platform, called MetaArc, and a comprehensive suite of the latest digital technologies and services will enable your transformation.
Find out more on Fujitsu's latest digital technologies and services

Want to know more?
Nach oben