Digital Business Platform
It is helpful to think of digital transformation at three levels: A project level, a business level and an industry level.
At the project level, digital initiatives often take the form of a trial: a Proof of Concept (PoC) and Proof of Business (PoB). These explore the potential of digital on a specific product and service or business function with the aim of finding and validating new value. To be successful, such initiatives need to break away from traditional methods. A design approach and co-creation with partners are the key factors to success, as well as allowing the development of new skills in employees.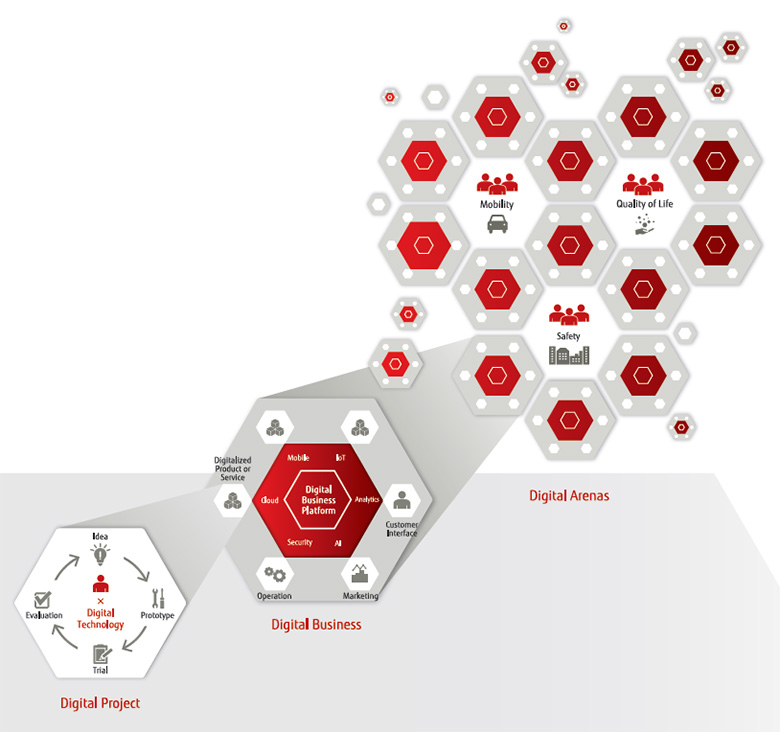 At the business level, an organization is looking to use digital technology strategically, to make a fundamental change across their business. A digital business platform is a key enabler of digital transformation at this level.
Thirdly, an enterprise can further scale the value they create for customers by connecting with other organizations and beyond their own industry. In the digitalized economy, the borders of existing vertical industries are increasingly blurred and reshaped. These new structures are shaped around customer needs and values, rather than physical assets. We call them 'digital arenas'. At this level, interfaces are key, and particularly APIs(*1), which enable different digitalized products and services in different verticals to connect and interoperate.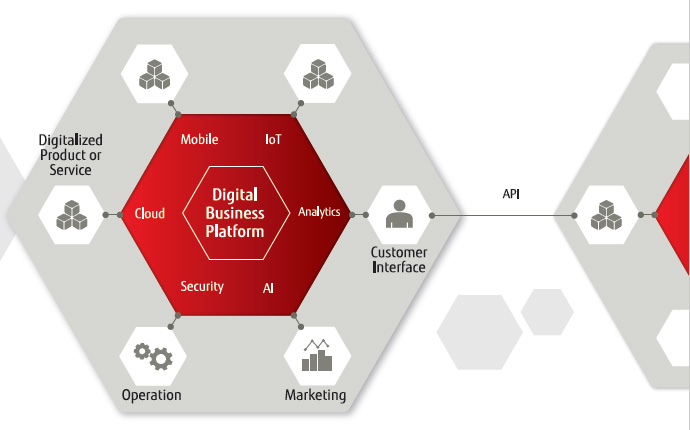 Businesses want IT to more directly drive business value affecting their top lines. A digital business platform is a holistic business framework that helps an organization in three ways. It enables them to empower their employees, to use intelligence derived from data and algorithms, and to build fast, reliable connections both internally as well as with the external ecosystem of customers, suppliers and partners. The platform is data-oriented; it connects all the data within an organization as well as its customers. In addition, it must help an organization to build resilience against increasing threats to cyber and physical security.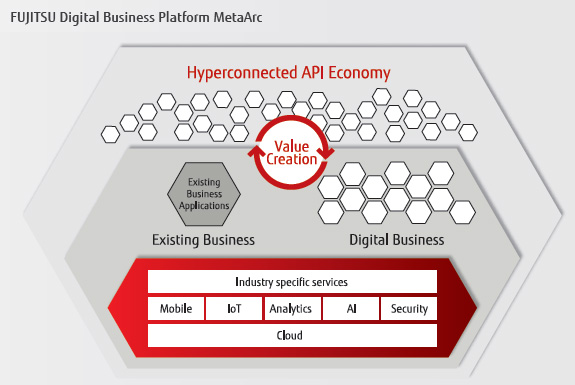 In 2015, Fujitsu began providing a digital business platform, we call MetaArc. We named it from two Greek words, meaning 'Beyond' and 'Connections'. This comprehensive framework has been designed for our customers to enable their digital transformations. MetaArc is based on scalable cloud computing infrastructure. It is designed to offer the capabilities of mobile, IoT, data analytics, and AI as a service. By integrating these services, businesses can quickly and easily mash together new digital business solutions and services. Its cloud also enables a marketplace of services to help businesses form digital ecosystems with their partners via APIs. MetaArc offers resilience to businesses with its security functionality. Fujitsu is migrating all our existing business applications on to MetaArc and developing new solutions to operate as an integrated digital business.
Note
(*1)APIs: Application Programming Interface: An API is a pre-defined set of functions which specify how software components should interact with each other
MetaArc Digital Business Platform
The MetaArc digital business platform from Fujitsu Promoting digital innovation in your business.
Find out more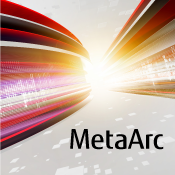 Special Issue: Digital Business Platform
FUJITSU SCIENTIFIC & TECHNICAL JOURNAL
Vol. 53, No. 1, January 2017
Find out more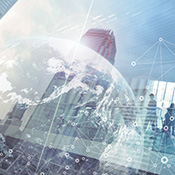 Want to know more?
Nach oben