: Fujitsu United States

Enabling Digital Transformation with Co-Creation
Fujitsu Solutions and Services for SAP® environments
Welcome to Fujitsu @ SAP SAPPHIRE NOW 
In a world of constant digital transformation, organizations need to learn fast, act quickly and scale rapidly. No-one can do this alone. This is why Fujitsu choose "Human Centric Innovation: Digital Co-Creation" as its central theme at SAPPHIRE NOW. "Co-creation" has always been central to Fujitsu's partnership approach. In a digital world, bringing together previously unconnected fields of expertise to realize innovation and value creation at scale becomes an imperative.
Having the right technology partner to respond to digital disruption is essential. It requires a blend of technology expertise with your organization's own business and industry insights. As a SAP global partner for over 40 years, Fujitsu drives innovation for the benefit of its customers, offering a full range of end-to-end products, solutions, and services :
SAP implementation services
Application management services
Mobile solutions and products
Cloud solutions and services
Dynamic infrastructure solutions
Managed infrastructure services
Retailing services
Stop by our booth #446 for a conversation with our experienced representatives, they will be available for one-on-one discussions throughout the conference. For more inspiration and insights, join our various speaking sessions.
Fujitsu Vision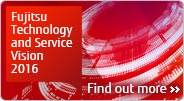 Fujitsu Technology and Service Vision