Digital Retail Solutions – Fujitsu Customer Experience Studio

Fujitsu Customer Experience Studio seamlessly integrates retail technology and people
Today's retail customers want their in-store experiences to match those online. They expect services to be delivered via multiple channels and touchpoints, and personalised to their individual preferences, purchase history and activities. In order to meet these expectations, retailers must invest in the right in-store technology.
For over 40 years Fujitsu has been providing technology and solutions to the retail sector, and is a world-leading expert in digitalisation. We can help you to implement technology and solutions that can deliver an exemplary experience and set your brand apart from your competitors.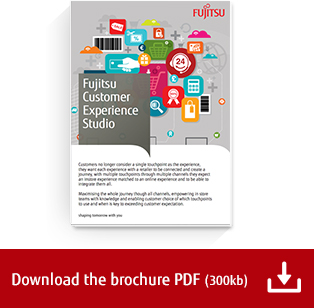 What is the Fujitsu Customer Experience Studio?
Our Customer Experience Studio (299 KB) is delivered by K5 hybrid cloud. It's an open system that delivers omni-channel real-time messaging to customers and staff via mobile apps, websites and digital signage. It uses a combination of technologies to improve both operational efficiency and the customer experience. By seamlessly connecting physical and online channels with enterprise systems and 3rd party services, you are enabled to deliver a single customer led experience.
Benefits include:
fully configurable to your organisation's specific needs
easy to overlay into customer apps, staff apps and existing websites
low transaction based pricing
scalable growth over time
pre-integrated with leading technologies including Wi-Fi, blue-tooth beacons and chat-bots
With our Customer Experience Studio, we connect your staff, customers, systems and assets to enable you to deliver seamless and efficient retail processes across both physical and online channels.

Find out more about our retail solutions and services

Top of Page