E7-20 Ethernet Service Access Platform (ESAP)
The flagship E7-20 Ethernet Service Access Platform (ESAP) can support up to 480 dedicated point-to-point GE subscribers or over 10,000 GPON subscribers. 
Key E7-20 ESAP Chassis Features: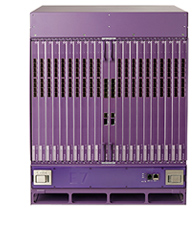 2 terabit backplane with 100 Gbps connection to each line card slot
Optimised for fibre-based greenfield Data Centre and CO deployments
Centralised switching controllers that deliver fully redundant, carrier grade performance
Serves 480 Point-to-Point GE or over 10,000 GPON subscribers, with the capacity to serve over 20,000 subscribers through higher density line cards in the future
Capacity to deliver Gigabit Ethernet services across fibre technologies and support emerging fibre technologies (10G PON, 10GE link aggregation, 100GE uplinks / transport)
Switch Control Processor (Aggregation and Transport)
With 200 Gbps of switching capacity, 20 Gbps uplink capacity, and four GE ports for aggregation per SCP card, deployable in a redundant configuration, there is plenty of capacity to serve an entire chassis filled with fibre.
GPON-8x Line Cards (Business and Residential)
Leverage eight port GPON line cards to deliver Gigabit broadband services to your subscribers with status reporting Dynamic Bandwidth Allocation (DBA).
GE-24x Line Card (Residential Point-to-Point GE / Active Ethernet)
Deliver residential, Point-to-Point Gigabit Ethernet service drops in 24-port increments with high-density CSFP optical modules.
Fibre Transformation – Ethernet Business Services
A key component of the E7-20 ESAP Ethernet business services solution set is support for the 700GX and 700GE ONTs. These ONTs auto-detect both GPON and Point-to-Point GE technologies, maximising deployment flexibility. The 700 ONT family consists of a wide variety of models designed to fit any business application including 1-8 GE ports, 2-8 T1/E1 ports, 2-8 POTS, and 1-8 RF video ports. The business services ONTs are available in either wall- or rack-mounted models and can be powered by either -48 V or 24 V (required for Mobile Backhaul applications) and are designed to enable carrier-class MEF Ethernet services and drive revenue growth.