Join us at Europe's largest retail solutions event

8th – 9th May 2017, Olympia London
RBTE is the must-attend event for retail and hospitality organisations looking for the right tools, solutions, innovations and advice on how to best run their business. Over 17,000 visitors are expected to visit looking for new ideas, innovations and solutions to win new customers and retain existing ones.
Being Europe's largest retail solutions event, it is an exciting place to visit to scope out the new retail technologies, and Fujitsu are going to be showcasing their latest solutions. Our Connected Retail 360° experience shows retailers how technology can seamlessly connect the shopping experience, improving customer experience, growing your business and increasing efficiencies. Read more about our connected retail offering.
Join us on booth 670 in the main hall (map here) to explore Fujitsu's latest retail innovations first hand. Sign up to a tour and let one of our experts talk you through the latest retail technology on offer. You'll even get a free goody bag for signing up!
Register for a tour of our Connected Retail 360° Customer Experience at RBTE
At booth 670, you will be able to see the Fujitsu Connected Retail 360° Customer Journey – with a variety of stores' scenarios, we will show how digitisation revolutionises the shopping world and how retailers can offer a 360° service to their customers, which leads to a unique shopping experience. 20 minute tour bookings can be made via the Qudini queue management kiosk on our booth or register ahead of the event here. The tour highlights include:
Click and Collect display powered by Qudini.
Smart Shelf - featuring dynamic, interactive "Lift & Learn" content from Grassfish and Skratch - designed to inform, engage and inspire shoppers.
Managed Shopper WiFi powered by WiFi SPARK.
Augmented Reality (AR) Bike – this exciting solution uses AR technology to provide live and relevant updates right in front of your eyes. See how the use of AR can offer hassle-free maintenance services.
Staff wearable with Self-Checkouts.
Fujitsu Market Place – a perfect omni-channel solution especially for food retail outlets, catering and petrol stations for a continuous shopping experience on all distribution channels.
YouBeep - smarter in-store shopping experience.
Facial Recognition – see how powerful facial recognition technology can be, and the advantages it can bring to your retail business.
Fujitsu Retail Engagement Analytics 2.0 – the latest solution for the evaluations of customer movement in store and buying behaviour, optimisation of in-store processes and increasing of conversion rates. It now also offers real time monitoring, as well as a camera based queue management.
Fujitsu Customer Experience Studio – a new digital solution empowering your store teams with knowledge and enabling customer choice to exceed customer expectation.
Virtual Reality (VR) – have a go on our time tunnel experience and game!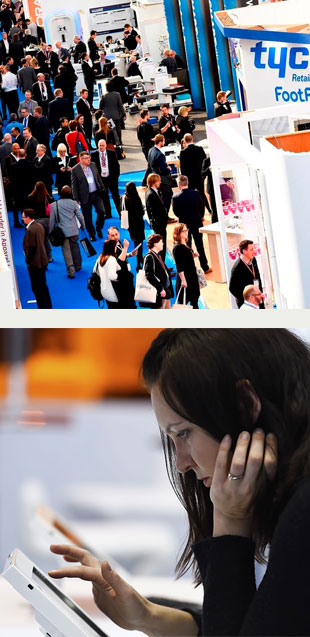 Find out more
To learn more about what we are showcasing, please join our online webinar on 4th May at 4pm, where you can hear more from our retail experts and our partners about what we have on offer on the day. Don't miss out! This is your chance to get exclusive early access to what we have on offer before the big day.
Add the webinar event to your calendar.
Find out more about RBTE.
Top of Page