Secure Thinking Enterprise Assessment Services

Is your organisation aware of the vast array of cyber threats affecting the business? 2015 was the year of the breach. Cyberattacks exposed the systems of a huge number of very large companies. More often than not these breaches involved data leaks or social attacks, these issues are making national and international news due to the sheer amount of customer sensitive data that these large organisations hold.
At Fujitsu, we use Cyber Threat Intelligence to turn data into actionable intelligence – and make sure our clients have optimal protection. From our Security Operations Centres, we track the security of our clients' IT 24 hours a day. We're here to help today's businesses navigate the ever-changing landscape of cyber threats.
What does a free security risk assessment involve?

It's important to invest time in recognising the risks your organisation might be facing. Fujitsu will perform an analysis of your IT and public access points to help identify and prevent any possible security threats.
Our security experts will conduct an initial assessment report from an external viewpoint which we can then discuss together, following that we can help in looking deeper into the cyber threats that could be impacting your business in areas you may have never thought about before.
What are the benefits of a security risk assessment?
Identify and resolve weakness in previously unexplored areas of the business.
The assessment will allow you to focus on the areas that are most critical to your business.
The assessment will provide you with the right insight and our experts will help you understand how you can build up better defence against cyber threats.
You're in safe hands. We deliver a comprehensive range of information security services to customers of all sizes across public and private sectors. We bring real experience forged by decades of delivering secure information services to a wide customer base including UK government departments and FTSE250 companies.
Register below for your free security assessment, one of our security team will be in touch to arrange a suitable time.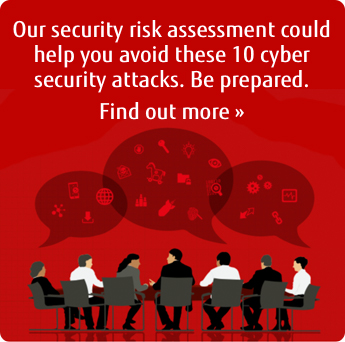 Top of Page