Fujitsu Cloud Service K5 - Service Options
Digital Transformation on your own terms: Cloud Service K5 offers total flexibility and choice
Fujitsu Cloud Service K5 combines Infrastructure as a Service (IaaS) and Platform as a Service (PaaS) for maximum flexibility. Customers can easily deploy solutions across different platforms because K5 is based on a single architecture. This common architecture for Public Cloud, Virtual Private Hosted, Dedicated Cloud and Dedicated On-premises deployments makes it quick and easy to test, deploy and change new services.
K5 is 100% compatible across all options, so regardless of the origin of your application development, whether it was developed specifically for VMware, OpenStack or implemented on Bare Metal, you have total compatibility for migration and integration across all K5 deployment modes.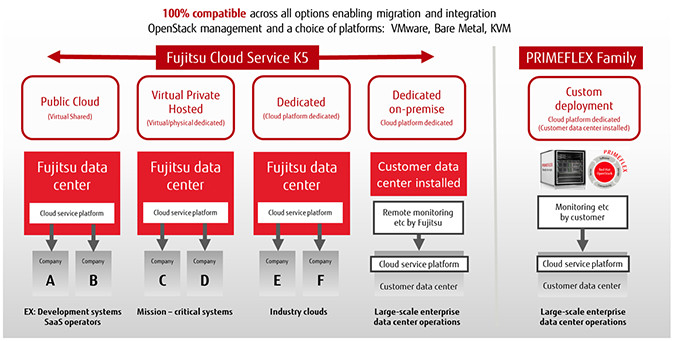 Service Overview
IaaS
A service that uses service portal/APIs to deploy and use virtual resources, an can build virtual systems in a short period of time.
Small to large systems can be built with flexibility to meet customer needs with zero initial cost and pay-per-use
Supports both scalable environments connected through flat networks and secure environments divided into multiple network tiers
Private Connection
Closed network connections between K5 and hosting/on-premises environments, as well as physical ports that can connect directly with K5 are provided. Hybrid environments can be easily deployed within a short period of time using the pre-configured and standardized closed network feature.
CF
An application execution environment service based on the open source Cloud Foundry.
Applications in multiple development languages can be executed - you can deploy and operate applications in multiple major development languages such as Java, Node.js and PHP.
Applications can be delivered in a short cycle time - various services can be easily integrated, and applications can be quickly developed and delivered.
PF
A service that supports agile development of highly maintainable applications and provides an application execution environment.
Significantly reduced development time, enhanced productivity, and reduced development size.
Systems can be built by simply selecting execution environment definition and deploying developed assets.
API Management
A service that provides an integrated API platform that manages and publishes various web service APIs.
API development time can be reduced by using features such as API access control and data format conversion. APIs can also be published securely through authentication and traffic controls.
Usage can be checked by monitoring API traffic information. With information that assists expansion and maintenance enables continuous business growth can be achieved.
SF
Provides a feature that automatically designs and builds optimal infrastructure configuration according to the requirements, such as those related to performance and reliability for the infrastructure that is getting more software-driven.
Customers can promote software-driven infrastructure by creating their own WL-PKG or using an existing WL-PKG, and can expect reduced infrastructure costs and faster delivery.

Note: WL-PKGs are deployable packaged systems consisting of system components, operation requirements, software stack, etc.
IoT Platform
Enables simple and efficient usage of data from various sensors and gateways using a standard procedure.
Improving production efficiency through visualization of the workplace using IoT.

Nahoru