S1300i Deluxe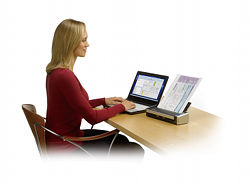 ScanSnap Deluxe is een productpakket met de ScanSnap S1300i, de nieuwste Fujitsu-oplossing voor scannen met één knop, en het digitale bestandsorganisatiesysteem Rack2-Filer Smart met Magic Desktop. De twee producten vullen elkaar naadloos aan en als gecombineerde oplossing voldoen ze precies aan de eisen van de organisatie van privédocumenten, of dit nu in een zakelijke omgeving, thuis of onderweg gebeurt
De ScanSnap S1300i kan worden gevoed via de USB-poorten van een laptop of via een AC-adapter. Ideaal dus voor professionals die vaak onderweg zijn en de scanner bijvoorbeeld in de auto of bij klanten willen opladen. (Scansnelheid neemt af bij voeding via USB.)
Bij de S1300i worden twee versies van ScanSnap Manager geleverd: een voor Windows en een voor Mac.
De ScanSnap-software maakt automatisch Adobe PDF-bestanden, die zijn uitgegroeid tot de norm voor documentuitwisseling. Zo kunt u documenten versturen naar ontvangers overal ter wereld in de wetenschap dat zij het document precies zo zien als u. U kunt doorzoekbare PDF's maken, ofwel op de achtergrond van ScanSnap Organizer of direct tijdens het scannen.
Om het scannen zo eenvoudig mogelijk te maken, inspecteert ScanSnap elk document om te bepalen of een document in kleur of in zwart-wit moet worden gescand, wat het formaat van de pagina is en of lege pagina's moeten worden verwijderd. Zo kunt u sneller scannen en hebt u minder opslagruimte nodig. Bovendien wordt onjuist uitgelijnde tekst gecorrigeerd (Automatisch rechtzetten) en wordt de afdrukstand van elke pagina automatisch aangepast.
De ScanSnap S1300i beschikt over een automatische documentinvoer voor 10 pagina's, een functie voor dubbelzijdig afdrukken en een functie voor kleurenscans. Dat allemaal in een verrassend klein apparaat dat rechtstreeks via uw laptop kan worden gevoed. Ideaal dus voor zakenreizigers.
De ScanSnap S1300i heeft ook een snelkeuzemenu. U legt de documenten gewoon in de invoergleuf en drukt op de scanknop van de S1300i. Alle pagina's worden gescand en het snelkeuzemenu wordt weergegeven, zodat u eenvoudig het resulterende PDF-bestand kunt doorsturen naar ScanSnap Organizer, e-mailontvangers, bestandsmappen of zelfs printers.
ScanSnap S1300i Deluxe wordt geleverd met een functie om een koppeling tot stand te brengen met populaire cloudservices als Dropbox, Google Docs, Evernote, SugarSync en Salesforce CRM. U kunt uw gescande afbeeldingsgegevens nu probleemloos verzenden en opslaan, vrijwel overal en altijd. Als er geen scaninterface beschikbaar is, kunnen Windows-gebruikers de optie ScanSnap Folder in de cloud-applicatie selecteren, zodat ze de importfunctie kunnen gebruiken om rechtstreeks naar de cloud te scannen
Scan naar iPad en iPhone, en nu ook naar Android™- of Kindle™-apparaten* via de downloadbare ScanSnap Connect-app. Upload uw document snel, veilig en gemakkelijk; geef het meteen weer en deel het.

Bestaande ScanSnap-gebruikers dienen ScanSnap Manager en ScanSnap Organizer mogelijk bij te werken. Ga naar http://www.fujitsu.com/emea/products/support/support-en-20111019-1.html
*De toepassing ondersteunt vele apparaten met Android 2.2 of later. Voor een lijst met ondersteunde Android-smartphones of -tablets gaat u naar http://www.fujitsu.com/global/services/computing/peripheral/scanners/ss/feature/ssca-requirement.html
Betere organisatie dankzij het Deluxe-pakket
ScanSnap S1300i Deluxe wordt geleverd met Rack2-Filer Smart en Magic Desktop (alleen Windows), zodat u de gegevens in documentscans eenvoudig kunt indelen, beheren en gebruiken.
Met Rack2-Filer Smart kunt u uw gescande en bestaande digitale gegevens opslaan in realistisch ogende boekenkasten en dossiers die u vervolgens eenvoudig kunt ophalen en bekijken, net als papieren dossiers. U kunt deze gegevens overal ophalen en gebruiken via de cloudservices en deze bewerken, er opmerkingen aan toevoegen en opslaan of opnieuw distribueren via een slim mobiel apparaat.
Met Magic Desktop kunt u afbeeldingsbestanden organiseren of bewerken, of uit ScanSnap geïmporteerde gegevens scannen in een omgeving die een echt bureau simuleert. Gebruikers kunnen hun werk zo naadloos organiseren door gegevens te groeperen. Bovendien kunnen ze gegevens uitwisselen met een groep via een ingebouwde Facebook-koppeling.
ScanSnap Manager [Windows]
Snel en eenvoudig PDF-documenten maken
Snel toegang tot vooraf gedefinieerde scanprofielen
Bestandsnamen wijzigen tijdens het scannen
Continu scannen, gemakkelijk meer PDF's maken dan de ADF-capaciteit
PDF-bestanden beveiligen met een wachtwoord
Automatische afstemming van de afdrukstand
ScanSnap Organizer [Windows]
ScanSnap Organizer is een virtuele dossierkast waarin u uw gescande documenten kunt opslaan, organiseren, e-mailen, afdrukken en doorlopen zonder ze te hoeven openen in Acrobat. Bovendien kunt u met ScanSnap gescande PDF's op de achtergrond converteren naar volledig doorzoekbare PDF's.
ScanSnap CardMinder [Windows] en Cardiris [Mac OS]
Deze toepassing legt de informatie op visitekaartjes op slimme wijze vast. CardMinder omvat nu IntelliSync, waarmee de gegevens naar verschillende PIM-toepassingen kunnen worden geëxporteerd. U kunt de gegevens echter ook exporteren naar een CSV-bestand.
De vastgelegde informatie is beschikbaar in alle Windows-toepassingen. U markeert gewoon de naam van een persoon of bedrijf in uw document of toepassing, drukt op Alt-F3 op het pc-toetsenbord en het desbetreffende visitekaartje verschijnt op uw scherm, zodat u meteen de functie, het adres, de contactgegevens en andere gegevens van de desbetreffende persoon ziet.
U kunt de onderliggende database via IntelliSync opslaan en exporteren naar verschillende PIM-toepassingen, zoals Outlook, ACT en Goldmine.
ABBYY FineReader voor ScanSnap™ [Windows®]

U kunt bewerkbare bestanden maken door rechtstreeks naar Microsoft® Word-, Excel¹- en PowerPoint-bestanden te scannen.
¹ Alleen Microsoft Word en Excel zijn beschikbaar voor Mac OS
Evernote 4.4 voor Windows, Evernote 2.2 voor Mac
Scannen naar Microsoft SharePoint 3.4
Voor uw gemoedsrust is een twee jaar geldige productvervangingsgarantie van toepassing op de S1300i Deluxe.