Overzicht
* Het scherm is PaperStream Capture It is 1.0
PaperStream Capture gebruikt de kracht en functionaliteit van ScandAll PRO-scansoftware met een intuïtieve interface die u sneller onder de knie krijgt. Klik op het profielpictogram voor batch- en ad hoc-scannen. Kloon, wijzig of maak nieuwe profielen met een duidelijke, stapsgewijze interface. Stel scannen met één druk op de knop en release-opties in. De meegeleverde PaperStream Capture-software vergemakkelijkt de documentworkflow.

Standaard bestandsuitvoer
Scannen naar PDF, PDF/A, PDF met OCR, TIFF Group 4, Multipage TIFF, JPEG, BMP met één klik.
Vooraf ingestelde profielen
Ingebouwde profielen voor zwart-wit, kleur en automatische kleur om tijd te besparen.
Automatische beeldkwaliteitcontrole
Batches markeren automatisch meervoudige invoer en problemen met documentranden voor snelle kwaliteitscontrole.
Beoordeling
Gedetailleerde miniaturen en zoomfunctie maken een snelle beoordeling van de kwaliteit mogelijk.

Opschorten
Pauzeer en hervat batches om onderbrekingen in het scannen van documenten aan te pakken.
SCA-profielintegratie
Implementeer updates en profielen voor al uw scanners met de gratis Scanner Central Admin-software van Fujitsu.
Assisted Scan-integratie
Gebruik in PaperStream IP geïntegreerde Assisted Scan voor snelle rescans en krachtige beeldopschoning.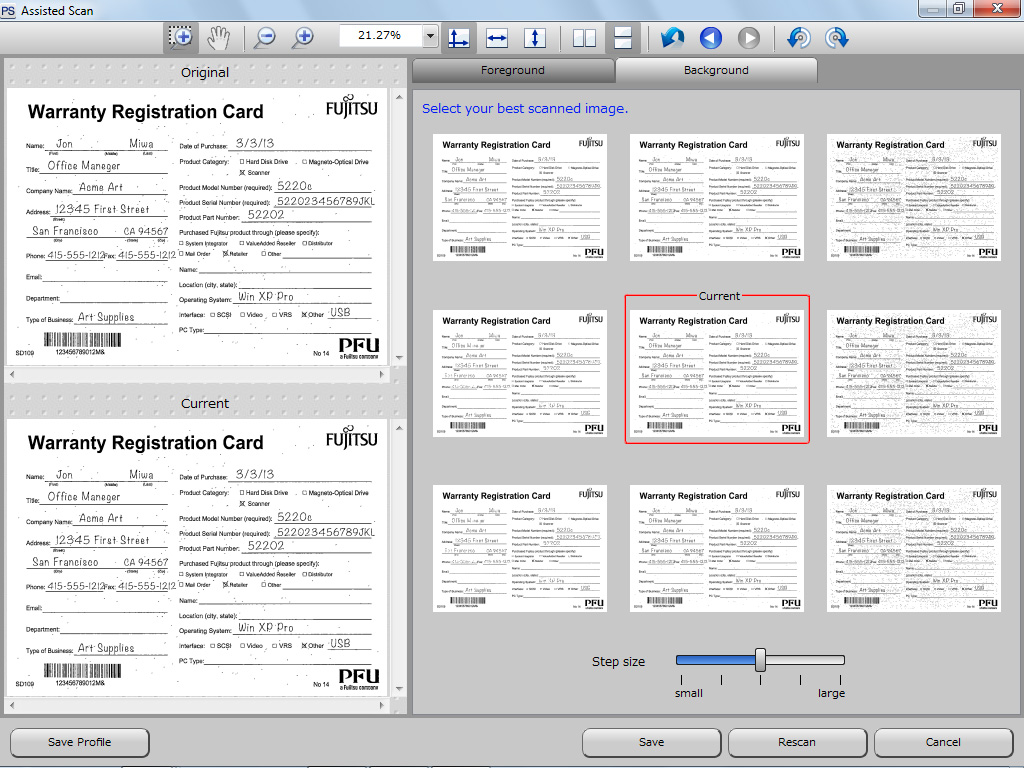 Taakscheiding
Houd documenten met streepjescodes en patchcodes gescheiden om het ordenen van de bestanden na het scannen te voorkomen.

Namen voor bestanden of mappen
Lees een streepjescode en ZoneOCR om een bestand of map een naam te geven en bestanden sneller te ordenen.
Namen voor bestanden bij release
Geef gescande bestanden een naam bij release voor ad hoc-batches.
Ondersteuning voor streepjescodes
1D-streepjescodes lezen: UPC-A/EAN/JAN, Code 3 of 9, Code 128/EAN128, Codabar (NW7), ITF.
Afdelingsscanners en hoger ondersteunen 2D-streepjescodes*1, PDF417, QR Code, Data Matrix, Aztec Code*2.

*1 Optie (extra) voor fi-6750S / fi-7260 / fi-7160 / fi-6110 / fi-6230Z / fi-6130Z / fi-7030 / fi-65F
*2 Ondersteund door PaperStream Capture 1.5
Selecteerbare batchpictogrammen
Personaliseer batchpictogrammen voor eenvoudige workflowherkenning.
Profielvergrendeling
Beheerder kan profielen vergrendelen voor consistente scanresultaten.