Intelligent Assets for a Smart Connected Workforce


Fujitsu connected workforce solutions - improving performance for customer retention
Within the UK energy and utilities sector market competition is fierce, with service providers facing a range of disruptive challenges. Today, switching suppliers is easy and motivated by far more than just pricing. With service levels and performance at critical moments being a major motivator, ensuring your field workers and support staff get things right first time and every time, is crucial to delivering on customer promises and avoiding customer churn.
At Fujitsu, we believe that connectivity through intelligent assets leads to operational excellence, and that by implementing the right connected IT solutions your workers are empowered to meet your customer promises for improved efficiency and productivity.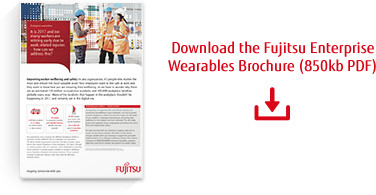 Industrial IoT
By equipping your workers with our industrial IoT and wearable sensor technology solutions, complex and time-consuming tasks become more straightforward. Our intelligent assets and innovative connected infrastructure solutions seamlessly connect your field workers with what they need, when and where they need it.
We enable you to create a modern working environment where employees are equipped with the right training, information and tools. With the latest in wearable technology, augmented reality and geo-tracking, your workers can receive contextual support whilst feeding back real-time biometric data and insights on their working conditions. Our solutions improve the flow of information to workers to assist them to complete their jobs first time, and provide full visibility of an individual's health and safety. Find out more about worker safety and well being with Fujitsu enterprise wearables.
Improving worker wellbeing
Every year around the world there are 120 million accidents at work. Discover how Fujitsu's innovative wearable solutions can help to keep your workforce safe and healthy: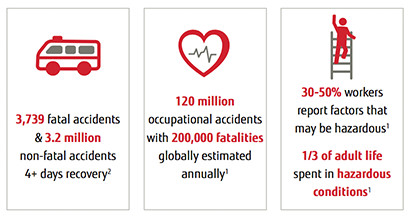 In any organisation, it's the people who matter most and remain the most valuable asset. Your employees want to feel safe at work and they want to know how you are ensuring their wellbeing. Many of the incidents that occur in the workplace shouldn't be happening in 2017, and certainly not in the digital era.
So, with this in mind, we have worked closely with our customers to design, develop and co-create an outcome centric platform capable of providing greater visibility as to a worker's wellbeing across hazardous situations and remote locations. Scenarios uniquely include driver drowsiness, over exertion, heat stress and fall detection, amongst others.
Our solutions developed in collaboration with our customers and include Vital Sensing Band, Location Badge, Head Mounted Display and Driver Drowsiness Detector. They help provide safer working environments by remotely monitoring the health and safety of workers and issuing alerts when or before accidents happen. In addition, the data collected can be analysed and used to re-design tasks to make them safer.
Discover more about our wearable solutions
Robotic Process Automation (RPA)
With Fujitsu Robotic Process Automation, we can enable your organisation to increase operational efficiency, reduce human error, minimise cost, improve customer experience and deliver productivity improvements. RPA uses software and existing technology to emulate the work of a human agent by automating repetitive and mundane rule-based tasks. User cases in the energy and utilities sector include:
customer records management
billing and settlements
customer transfers
metering
customer service support
administration
regulatory compliance
Customer Robotic Process Automation
Success Story
Fujitsu's RPA offering enabled one Scottish utilities customer to remove 95% of the manual labour involved in the production of its monthly shipping reports. The logical and repetitive nature of the shipping report made it an ideal candidate for automated workflow creation, the implementation of our solutions has led to efficiency improvements and annual cost savings.

Why choose Fujitsu connected assets?
Our solutions enable you to get things right first time to cut the cost and inconvenience of multiple visits. By ensuring your workers arrive on site with full insight on projects and are pre-prepared with the right equipment, they can both remain safe and achieve fher first-time resolution rates to meet customer expectations. With our help, your field workers are enabled to:
remain safe
work flexibly
take charge of productivity
instantly order stock
arrange customer appointments to save on time and call centre costs
receive guidance and technical support in challenging conditions via video or augmented reality







With Augmented Reality, Metawater improved the quality of on-site work and technology transfer

Metawater introduced Augmented Reality technology supporting on-site operations in combination with a tablet interface that solved Metawater's challenges in technology transfer of such on-site operation.

How wearable tech can make your business a better place to work

Wearables should be more than just an addition to the office, they should be a standard part of the way you run your workplace. Discover how you can use them to your advantage, and above all, keep your workers safe.

Drive operational excellence through a connected workforce

Discover how Fujitsu can help you unlock the reality of an always connected workforce. Where your infrastructure is connected, your assets are intelligent and information is available to employees anywhere, anytime.

Top of Page