To look more objectively at what success looks like for organizations, and the challenges and progress they have made, we commissioned a global survey of business leaders. The Digital Transformation Survey canvassed the views of 1,500 business leaders from 16 countries.
Uneven Digital Landscape
We asked what was motivating companies to transform. As we might have anticipated, this was not a level playing field. Different industry sectors have different reasons for becoming more digital.
The biggest challenge reported by non-online companies is skill shortages, and an interesting finding is that organizations face different challenges at different stages of transformation.
Furthermore, we found that organizations which had delivered outcomes showed strong capabilities across six factors: Leadership, People, Agility, Business Integration, Ecosystem and Value from Data.
Digital Muscle
The insight that came out of our research is that organizations that focus and build on these areas have a greater chance of success. These six success factors are like muscles. The stronger your digital muscles, the greater the chance of success through digital transformation.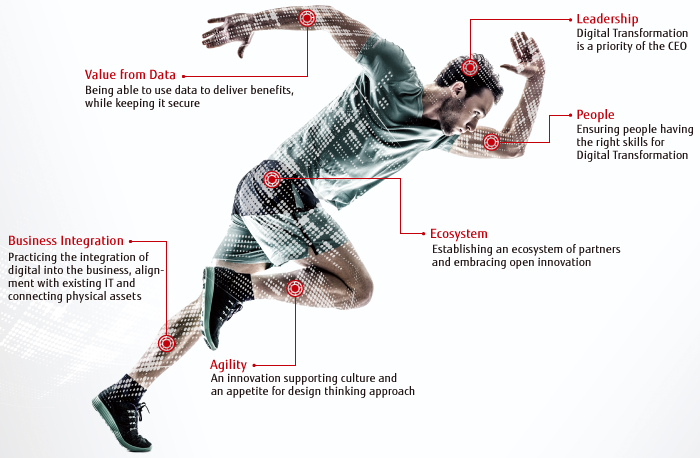 Our survey also revealed that companies which had delivered outcomes placed the highest importance on technology partner, followed by their customers. The respondents wanted to work with technology partners that could be trusted, that were agile as well as having technology expertise and being able to deliver quality.
An interesting finding was that online companies value ecosystem partners, including startups, companies from different industries or consortiums, to a much greater degree than traditional companies.
Digital Co-creation is a way for organizations to leverage digital technology and deliver innovative value jointly with your partners and customers.
We believe Digital Co-creation is the best way of achieving digital transformation. It enables you to focus more strongly on creating value for your customers, to bring out the best in your people, and leverage the skills and capabilities that exist outside your organization.
Delivering Successful Outcomes
What kind of business outcomes have been delivered through digital transformation? Our survey indicated that there were five major outcomes: improving customer experience, increasing competitiveness, increasing efficiency, increasing agility and transforming business model.

Digital is not easy. Our customers and our Fujitsu colleagues have worked through close and often intensive collaborations to overcome many challenges. Often through trial and error, which is necessary for creating innovation. But innovation scales through learning.