Cloud Integration Platform
Delivering Bring Your Own Cloud for the enterprise - safely and simply
FUJITSU Cloud Integration Platform provides a comprehensive platform enabling the successful adoption and management of cloud within your Enterprise.
There is little doubt that new cloud services allow businesses to innovate, cut costs and be more agile. However, while IT departments are well aware of the opportunity the cloud provides, they are compelled to consider the regulatory and security implications that such services bring.
The Fujitsu Cloud Integration Platform provides a "single pane of glass" to seamlessly manage and integrate existing ICT systems alongside these cloud services, whether they are from Fujitsu or other cloud providers. All in a simple, consistent and compliant way.
The rise of departmental IT
CIOs that want to maximise the benefits of the cloud often face the daunting task of overcoming a stubbornly complex environment while business units are bypassing the IT department altogether and implementing new cloud services themselves.
Therefore, a new approach is required that empowers CIOs and IT departments to enable their business to adopt the cloud services they want in a way that applies the appropriate governance and controls.
Become a cloud enabler
Our Integration Platform enables you to support innovation across your business, delivering highly responsive ICT outcomes.
It puts you in control, allowing you to manage and integrate new services with existing infrastructure so that you're monitoring and managing all business-critical IT
It includes a complete set of integration tools that will help you to remain flexible when sourcing and adopting new cloud services
It provides the platform for you to act as a cloud aggregator and enables the business to adopt a 'Bring Your Own Cloud' approach in a safe and simple way
It can be deployed on-premise (as a private cloud) or off-premise, with the option of self-managed or delivered as a Fujitsu managed service.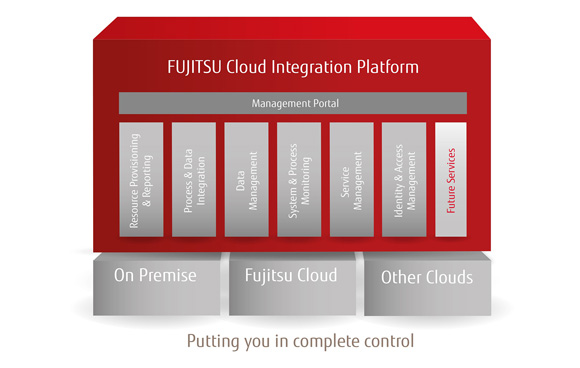 Resource Provisioning and Reporting
Manage all the cloud infrastructure, platforms and software your business uses from a single, central portal.
Process and Data Integration
Deploy, manage and connect cloud and on-premise solutions to establish an integrated flow of services and systems to deliver support for new or improved business processes.
Data Management
Protect your data in cloud and non-cloud solutions managing all information regardless of location or provider.
System and Process Monitoring
Optimize the performance of cloud and non-cloud environments with a single view of resources and processes.
Service Management
Access end-to-end service management across cloud and non-cloud environments, ensuring performance and availability remains consistent.
Identity and Access Management
Control authentication, authorization and access across all cloud and in-house services to reduce risk.
Why choose Fujitsu Cloud Integration Platform?
Everything you need to manage cloud successfully – all in one place
Our platform delivers the three key elements needed for effective cloud adoption:
A platform for cloud management
A powerful cloud based integration engine
A cloud aggregation solution
A trusted service provider with more cloud choice
Our cloud portfolio includes trusted-public, private-hosted, private-cloud and hybrid-cloud - Infrastructure as a Service (IaaS) offerings as well as our integrated Platform as a Service (iPaaS).
Integration experts that will guide and support you
We can help you to integrate on-premise and cloud-based services because of our 30 years of experience in delivering enterprise-class services for global organizations.
Top of Page