Features
Máximo rendimiento con el diseño más compacto!
Con aproximadamente el tamaño de una hoja de papel, el ScanSnap S1300i está diseñado para conveniencia y facilidad de uso, con solo un botón permite escanear múltiples tipos de documentos a doble cara ya sea en la oficina o en la carretera. Dispone de un Alimentador Automático (ADF) para 10 documentos (ADF) que permite capturarlos automáticamente con tan solo pulsar un botón.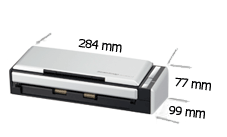 ---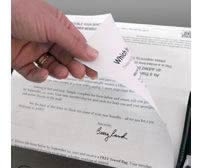 Captura a doble cara de múltiples documentos
ScanSnap S1300i escanea los documentos por ambas caras a 12 páginas por minute directamente a PDF, PDF con OCR, JPEG, o a aplicaciones office como Word o Excel®. El ScanSnap S1300i reconoce automáticamente el tamaño de cada document, detecta y corrige el enderezado, y muestra las imágenes con la correcta orientación. Puedes incluso decirle que elimine las páginas en blanco.
---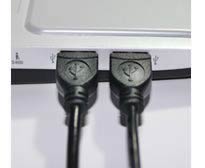 Para una portabilidad Extra, trabaja con USB Bus Power
ScanSnap S1300i lleva incluido un adaptador de corriente pero para añadirle más valor en su portabilidad, el ScanSnap S1300i puede alimentarse a través del puerto* USB del ordenador cuando no es posible utilizar el adaptador de corriente.
*Cuando se utiliza el cable de alimentación USB, el ordenador debe tener dos puertos USB; uno para la alimentación y otro para la conexión a datos.
---
Listo para trabajar con un PC o Mac
El Quick Menu le permite rápidamente elegir entre diferentes acciones tras la captura. Solo tiene que pulsar el botón Scan y elegir lo que quieres que ScanSnap haga:
Scan to Folder: Almacena lo escaneado en una cappeta local, una carpeta de red, o a SharePoint (PC)
Scan to Email: Elimina el fax y comparte los documentos electrónicos vía email
Scan Business Cards: Escanea las tarjetas de visita y automaticamente extrae la información de contacto
Scan to Print: Utiliza ScanSnap con tu impresora para generar copias cuando sea necesario
Scan to Word (.doc): Escanea directamente a un fichero Word editable
Scan to Excel (.xls): Escanea directamente a un fichero Excel editable
Scan to PowerPoint (.ppt): Escanea directamente a un fichero PowerPoint editable (solo en Windows)
Scan to Microsoft SharePoint, Scan to SalesForce chatter
Scan to iPhone®/iPad®, Kindle™ o dispositivos Android™
Scan to Cloud: Scan to Dropbox, Evernote®, Google® Docs™* y/o SugarSync
ScanSnap Quick Menu para PC: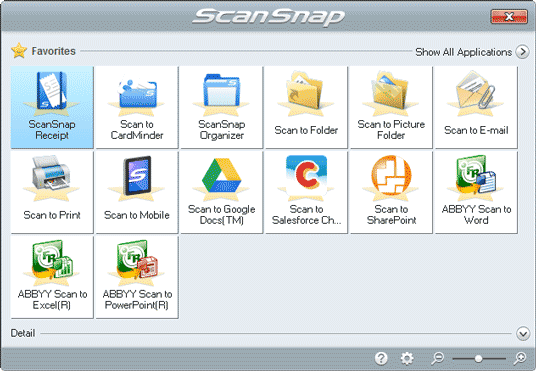 * Lleva inclida una version demo de 30 días de Rack2-Filer. La licencia complete va incluida en el modelo, S1300i Deluxe (Part: PA03603-B015). Scan to PowerPoint® y Rack2-Filer no están disponibles para Mac.
ScanSnap Quick Menu para Mac: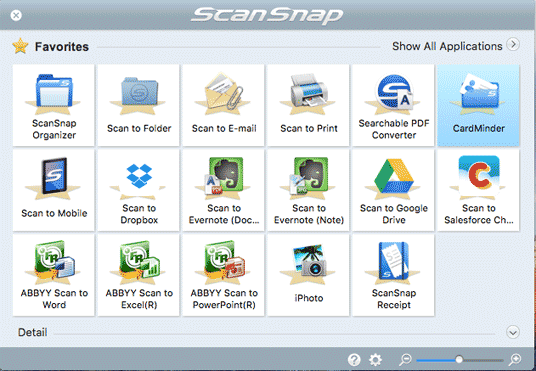 ---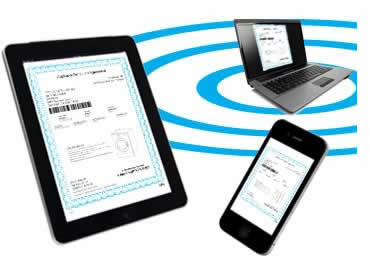 Scan to Mobile
El S1300i soporta la captura vía wireless hacia dispositivos iPad®, iPhone®, Kindle™ y Android™ gracias a la captura a través de app ScanSnap Connect Application*.
La aplicación soporta muchos dispositivos Android 2.2 o posterior. Para consultar el listado de dispositivos Android smartphones/tablets compatibles, ir a:
http://www.fujitsu.com/global/services/computing/peripheral/scanners/ss/feature/ssca-android.html

*ScanSnap Connect Application está disponible gratis para descarga desde el servicio de distribución official de Aplicaciones (e.g Google Play and Apple App Store). La conexión wi-fi del ordenador donde se instala ScanSnap debe estar activada.
---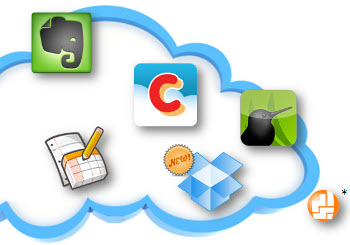 Mas formas de escanear al Cloud
Como todos los modelos de la familia ScanSnap, el S1300i permite enlazar a servicios cloud de Dropbox, Evernote, Google Docs™, Salesforce CRM y SharePoint Online (para Windows®). También permite funciones adicionales de sincronización en la nube: Scan to SugarSync y Scan to Salesforce Chatter así como Scansnap folder para Win OS solo se puede escanear a un servicio cloud cuando la interfaz de captura no está disponible a través de la funcionalidad de importación.
Apple iPad, iPhone, iPod touch así como iTunes son marcas de Apple Inc., registrado en U.S.A. y otros paises. App Store es un servicio de la marca Apple Inc.

Las especificaciones sobre el producto están sujetas a cambios sin previo aviso, debido a modificaciones del mismo.