The art of Fujitsu management
The art of Fujitsu management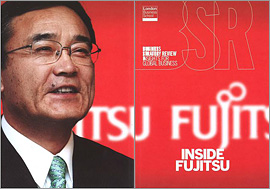 Times like these require change, even from industry leaders. Through a series of interviews with Fujitsu's executive leaders in Japan, London Business School's "Business Strategy Review" took a close look inside Fujitsu, exploring its way of leading change and the art of Fujitsu management. The result is an interesting depiction of the process through which Fujitsu is continually changing itself for the future and striving for global growth by building on its Japanese heritage.
Business Strategy Review
Business Strategy Review (BSR) is a quarterly magazine published with the London Business School. BSR provides thought leadership and global business insights from top faculty and executives.
You can read an extract of the article entitled "The art of Fujitsu management

" on the London Business School website, or download a PDF with the full article below to find out more about how Fujitsu is preparing to meet the challenges of the future.
Related Topics
Business Strategy Review (1.26MB / A4, 10pages)
© London Business School [2010]. The definitive, peer reviewed and edited version of this article is published in Business Strategy Review [volume 21, issue 4, pages 7-14, 2010],www.london.edu/bsr
Top of Page