La mobilité au coeur de votre entreprise
L'espace de travail digital : Se connecter, collaborer, et innover
Aujourd'hui, ce sont les gens qui sont au cœur de la transformation des entreprises.

Les technologies mobiles ont transformé nos vies quotidiennes. La prolifération de terminaux mobiles, associés à une connectivité internet plus rapide et accessible partout rendent l'accès à internet plus facile qu'il ne l'a jamais été. Dans ces conditions, même si les entreprises prennent conscience de l'intérêt d'avoir des collaborateurs mobiles, il peut être compliqué de déployer une réelle solution de mobilité. C'est une des principales difficultés auxquelles les entreprises font face depuis quelques années. En conséquence, les entreprises cherchent à trouver l'équilibre entre réduction des coûts, innovation, et maintient de leur infrastructure traditionnelle.
Les éléments des espaces de travail traditionnels disparaissent à mesure que la technologie fait progresser les possibilités de personnalisation, de connexion, et de collaboration. De la réalité augmentée (et virtuelle) aux robots, en passant par les objets connectés portables, nous commençons à voir comment l'innovation digitale peut changer notre façon de travailler.

A mesure que l'innovation digitale fleurit, les entreprises sont de plus en plus mises à l'épreuve sur leur capacité à promouvoir l'engagement de leurs collaborateurs et sur leur capacité à délivrer une expérience utilisateur plus proche de celle qu'ils vivent en tant que consommateur. Les directions et responsables informatique doivent développer un environnement de travail plus social, mobile, et qui repose plus sur les données, pour être plus en mesure d'être un véritable support de leurs besoins métiers.
Fujitsu aide ses clients à développer un espace de travail cohérent en mettant à profit des stratégies de transformation permettant d'accélérer l'innovation. 
Consultez nos documents sur l'évolution de l'espace de travail digital pour voir comment cette technologie impacte déjà certains espaces de travail tels que les hôpitaux, les usines, mais aussi les bureaux des entreprises, pour fournir de la valeur aux collaborateurs et répondre aux attentes des clients.
La vision de Fujitsu
En vedette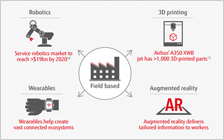 L'évolution de l'espace de travail digital
Découvrez comment des technologies telles que la biométrie, la réalité augmentée, et l'impression 3D peuvent impacter les entreprises et vous accompagner concrètement vers un environnement digital. Télécharger le livre blanc>>


Voir l'infographie >>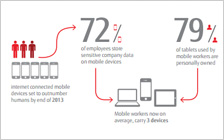 Livre blanc : Rendez votre entreprise plus mobile
Découvrez notre stratégie de mobilité à long terme pour créer un environnement de travail digital.
Télécharger le livre blanc>>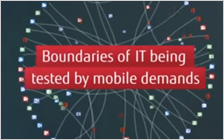 Réussir à rendre l'espace de travail mobile
Découvrez comment l'infrastructure informatique moderne peut vous aider à réussir à rendre votre espace de travail mobile et hyper connecté.
Regarder la vidéo>>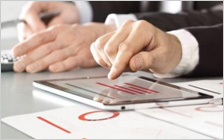 Livre blanc: End User Analytics
Découvrez comment avoir un meilleur contrôle de votre espace de travail digital. Donnez à votre entreprise la capacité de prendre des décisions mieux renseignées, basées sur les données, qui permettront d'obtenir une meilleure expérience client. Téléchargez le livre blanc End-user Services>>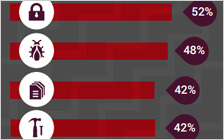 Livre blanc: Bring Your Own Device
Découvrez commet le BYOD constitue une meilleure base pour un environnement de travail au sein duquel vos collaborateurs sont plus épanouis.
Téléchargez le livre blanc BYOD >>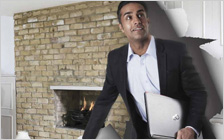 10 conseils pour protéger vos données
Votre guide pour trouver l'équilibre entre sécurité et productivité.
Téléchargez nos conseils pour protéger vos données>>

Articles de blog
Travailler avec Fujitsu

La solution Fujitsu Workplace Anywhere fournit un environnement sécurisé qui pemert de connecter les individus, les données, les applications, permet de tirer le meilleur parti de la technologie du client. En faisant appel à une approche centrée sur l'utilisateur, personnalisée en fonction de la façon de travailler, les employés sont plus productifs et enclins à innover et créer de la valeur. Le résultat : des collaborateurs connectés, digitaux, et agiles En savoir plus sur les offres Fujitsu:
Services aux utilisateurs
Services aux clients
Centre d'assistance
Support technique

Tablettes, PC, PC Portables...
Pour en savoir plus, contactez Fujistu directement
What our customers say
Watch videos about how our customers are making the transformation to a digital workplace with Fujitsu and our partners:
To find out more about how Fujitsu has helped a range of business from across sectors and industries, visit our case study pages.
Top of Page