Fujitsu Cloud Service K5: Platform as a Service
Entwickeln, implementieren, digitalisieren. Erlangen Sie einen Wettbewerbsvorteil mit K5 PaaS.
Als Bestandteil von MetaArc fungiert K5 als Motor für eine zuversichtliche Digitalisierung Ihres Unternehmens. Während K5 IaaS durch Modernisierung der Infrastruktur das Fundament legt, liefert Ihnen Platform as a Service (PaaS) die Tools, um einen echten Wandel herbeizuführen, Begeisterung bei Ihren Kunden zu wecken und einen Wettbewerbsvorteil zu erlangen.

Es beginnt nicht nur mit der Unterstützung, Integration und Umgestaltung Ihrer Systeme zur Datenverwaltung (Systems of Record) und Systeme der Zusammenarbeit (Systems of Engagement) sondern auch damit, Ihren Entwicklern zu ermöglichen, schnell neue digitale Anwendungen in großem Maßstab zu entwickeln und zu verwalten, ohne eine komplexe IT-Infrastruktur aufbauen zu müssen.

Durch die enge Zusammenarbeit mit unseren Kunden trägt Fujitsu zur Bewältigung der größten Herausforderungen der Digitalisierung bei. Dazu gehören:
Herausforderungen bei der Digitalisierung



Effizienz

Durch Ausweitung über die Infrastrukturebene hinaus und Komplexitätsabbau bei Anwendungssystemen und Prozessen.



Geschäftswachstum
Durch Nutzung von Anwendungsdiensten
und offenen Systemen, Einführung neuer
Geschäftsmodelle und Erreichung
größerer Kundennähe.

Zusammenarbeit / Co-Creation

Gemeinsame Entwicklung neuer Wertschöpfungsketten, unterstützt durch kohärente Echtzeit-Informationssysteme,
die eine vernetzte Business Intelligence bieten.

Komplexität und Verantwortung
Verwaltung und Integration von Unternehmenssystemen und -daten für eine effektive Orchestrierung bei gleichzeitiger Minimierung der Anbieterabhängigkeit durch Nutzung offener Systeme.

Innovation und Benutzeroberfläche
Wertschöpfung aus traditionellen IT-Anwendungen über APIs und Verbesserung der Effizienz mithilfe neuer agiler Prozesse.

Flexibilität
Für die schnelle Entwicklung kundenspezifischer Systeme, die eine Verlagerung zu proaktiver IT ermöglichen,
um Geschäftsinnovation, neue Geschäftswerte und eine bessere Kundenerfahrung zu unterstützen.
K5 PaaS: Verwirklichung der digitalen Transformation.
Fujitsu Cloud Service K5 meistert diese Herausforderungen sofort, indem er Ihnen ermöglicht, sich die vier Bausteine der digitalen Transformation zunutze zu machen: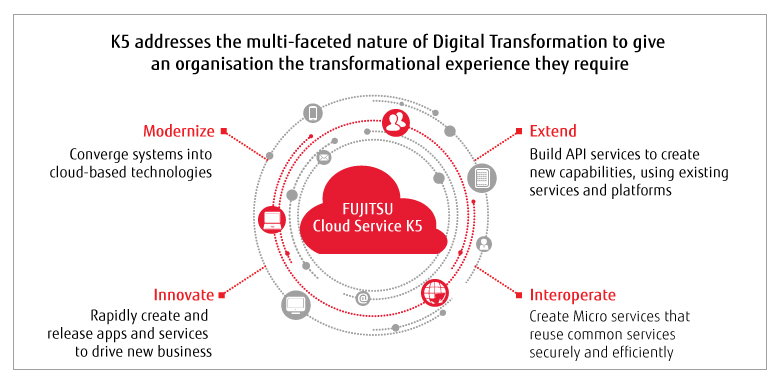 Fujitsu ist sich dessen bewusst, dass diese Bausteine für jedes Unternehmen etwas anderes bedeuten, je nach Ihrem Risikoprofil, Ihren Altsystemen und Ihrem Tempo der Veränderung. K5 räumt Ihnen die Flexibilität ein, die Transformation nach Ihren Vorstellungen durchzuführen, und stattet Ihre Entwickler mit den marktführenden Tools aus, die diese für ihre Arbeit benötigen.
Tools, die Ihnen unglaubliche Möglichkeiten eröffnen ...
K5 PaaS bietet eine breite Palette an kundenspezifischen Entwicklungsmöglichkeiten für die Modernisierung und die schnelle Entwicklung und Implementierung neuer digitaler Services. Dazu gehören:
Fujitsu System Factory Service

Legt Vorlagen der Infrastrukturausstattung in Form von Code an und automatisiert diese, wodurch die Erstellung und das Provisioning von Workloads in Cloud-Infrastrukturen vereinfacht wird, was Folgendes ermöglicht:
  • Wiederverwendung
  • Automatisierung von Aufgaben des Systemaufbaus und Systembetriebs
Fujitsu PF

Bietet eine vorkonfigurierte Infrastruktur für Java-basierte, kritische Anwendungen, welche die:
  • Systemeinrichtungszeit verkürzen
  • Entwicklerproduktivität steigern
  • Nutzung der Infrastrukturausstattung optimieren.

Daneben bietet PF eine Anwendungsentwicklungsumgebung, die zur Optimierung von Java-Anwendungen und zum Hinzufügen neuer Merkmale und Funktionen genutzt werden kann.
Fujitsu Cloud Foundry Service

Ermöglicht App-Entwicklern den Aufbau, die Implementierung, den Betrieb und die Skalierung von Anwendungen sowohl in Public als auch in Private Clouds. Benutzer können aus einer breiten Palette von Programmiersprachen wie Java, Node JS oder PHP wählen. Cloud Foundry legt die erforderliche Anwendungsumgebung an, in der sich Entwickler auf das Schreiben von Code und eine schnelle Implementierung konzentrieren können.
Fujitsu K5 APIM

Ermöglicht Anwendungsentwicklern, ein web-basiertes API-Management bereitzustellen, um z. B. auf Kontroll- und Steuerungsdienste zuzugreifen und gleichzeitig die API-Infrastruktur durch den Zugriff auf Konfigurationsoptionen innerhalb von APIM und nicht über Programmiercode zu schützen.
Apigee Edge

Ein API-Management auf Grundlage der marktführenden Plattform Apigee Edge vereinfacht die Bereitstellungsverwaltung und Analyse von Backend-APIs und -Anwendungen und sorgt so für eine schnellere dynamische Serviceentwicklung. Diese können auch als "Wrapper"-Dienste für vorhandene robuste IT-Systeme verwendet werden, damit diese als neue digitale Ressourcen ohne Re-Platforming und mit minimaler Neuprogrammierung als neue digitale Ressourcen genutzt werden können.

Nach oben