Providing All the Support You Need
Our solutions are transforming the operations of business around the world
As an expert partner, Fujitsu will provide the highest levels of support to keep your business running as productively as possible – from providing a single point of ownership and accountability to managing the entire compute and communications lifecycle.
We tackle complexity by coordinating maintenance and consolidating service contracts – for all hardware and software providers – defining clear service responsibilities.
We're committed to delivering excellent service. Our advanced service management assures the consistent global delivery of SLAs, along with transparent real-time reporting for business continuity and reduced downtime.
Wherever your employees are in the world, our high-quality, multi-lingual Service Desk is always there to provide the support they need.
From self-service provisioning to advanced access control and data encryption, our dedicated mobile management services are there for your staff at all times – across all devices.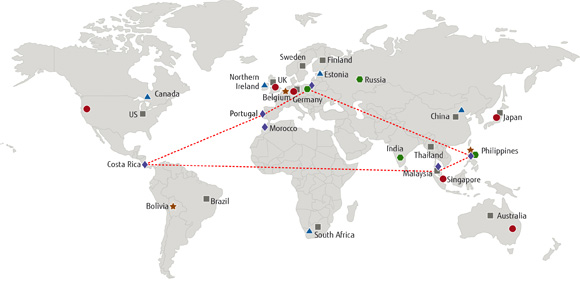 Larger View (130 KB)
Fujitsu data centers (representative selection)
Japan, Australia, United States of America, Singapore, United Kingdom and Germany
Fujitsu Cloud IaaS Trusted Public S5 locations
Japan, Australia, United States of America, Singapore, United Kingdom and Germany
4 global delivery centers (remote infrastructure and applications management)
Russia (Kazan & Voronezh), India (Bangalore & Pune), Poland (Lodz), Philippines (Manila)
5 regional delivery centers
Canada, Northern Ireland, Finland, China, South Africa
Global Program Management Office (GPMO) Hub (coordination onsite support)
Belgium (Brussels), Bolivia (Cochabamba), Philippines (Manila)
6 Global multi-lingual service desk
Portugal (Lisbon), Poland (Lodz), Costa Rica (San Jose), Malaysia (Kuala Lumpur), Morocco (Rabat), Philippines (Manila)
Potential for "follow the sun" service
Nach oben