In Memory Computing mit SAP-HANA
Mit SAP HANA arbeiten Sie bis zu 3.600 mal schneller mit Ihren Daten
Mit der SAP HANA Datenbank – der revolutionär schnellen SAP In-Memory Computing Lösung – können Sie ab sofort in Echtzeit mit Ihren SAP-Daten arbeiten. Praktisch bedeutet das für Sie: Analyse-Ergebnisse in Sekunden statt in Stunden!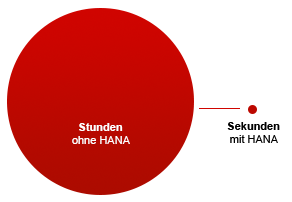 Ihre Vorteile mit der SAP HANA Datenbank, der In-Memory SAP Lösung:
Minutenaktuelle Reportings, Simulationen & Analysen
Völlig neue Beratungsmöglichkeiten beim Kunden
Effizienzsteigerung = mehr verfügbare Kapazitäten
Steigerung der Betriebswirtschaftlichkeit
Langfristige Wettbewerbsvorteile
Erfahren Sie mehr über unsere Leistungen in der In-Memory-Technologie SAP HANA
Flyer SAP HANA Migrationspaket SAP BW

Flyer Workshop Data Mining Assessement

SAP HANA Analytics Workshop: Was bringen Ihrem Unternehmen Auswertungen in Echtzeit?
Sie möchten den individuellen Nutzen von SAP HANA In-Memory für Ihr Unternehmen ermitteln? Lassen Sie uns das gemeinsam machen: In einem Workshop zur SAP HANA Datenbank.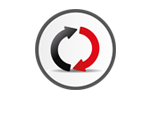 Wir zeigen Ihnen, welchen Mehrwert SAP HANA auch für Ihr Unternehmen bringen kann.
Lernen Sie Business Suite on SAP HANA, BW on SAP HANA oder "Specific App on SAP Business Suite powered by SAP HANA" kennen.
Bei Ihnen vor Ort stellen wir Ihnen und bis zu neun weiteren Kollegen die Vorteile der In-Memory SAP-Lösung vor.
Sie zahlen für den eintägigen Workshop nur 1.250 Euro.


Warum SAP HANA von Fujitsu?

Setzen Sie auf Fujitsu, setzen Sie auf einen Experten für SAP und die SAP HANA Technologie. Für unser Know-how und unsere Services wurden wir mehrfach ausgezeichnet. Überzeugen Sie sich selbst:

Als zertifizierter SAP Hosting Partner einschließlich SAP HANA Operations erlangten wir im Jahr 2013 die Zertifizierung "SAP HANA Enterprise Cloud (HEC) Partner" der SAP. Wir überzeugten mit unserer AGIL Servicelandschaft und dem umfassenden Serviceangebot vom SAP Consulting bis zum Betrieb.
SAP hat Fujitsu als "Innovative Reseller of the Year" mit dem "SAP Partner Impact Award in der Region EMEA & DACH 2012" ausgezeichnet. Grund für diesen Preis war insbesondere das umfassende Angebot rund um SAP HANA sowie erfolgreiche Projekte in der Ramp-up-Phase der In-memory-Datenbank.
Alle SAP HANA Leistungen aus einer Hand
Allein die Kombination "Fujitsu – SAP" zeigt Ihnen deutlich: Bei Fujitsu haben Sie alle Optionen mit der SAP HANA Datenbank und erhalten sämtliche Leistungen aus einer Hand – von der
SAP Consulting Leistung
über die Einführung der Lösung bis hin zum Betrieb.
Bei diesem SAP HANA Komplettportfolio profitieren Sie gleichzeitig von einer Vielfalt an finanziellen und praktischen Mehrwerten:
Kostengünstige Einstiegslösung und Standardprodukte mit voller Skaliermöglichkeit
Maßgeschneiderte Sonderlösungen für große mittelständische Unternehmen und ganze Konzerne mit komplettem Service aus einer Hand
Zertifizierte Infrastrukturen
Spezifische Lösungen angepasst an die individuellen Anforderungen Ihrer Branche
SAP Mobility-Services für die Nutzung von SAP HANA auf Smartphone und Tablet
Migration des SAP Business Warehouse auf SAP HANA-Infrastruktur

DPD hat die Bereitstellung der Informationen im eingesetzten SAP Business Warehouse mithilfe der innovativen In-Memory-Technologie SAP HANA beschleunigt.
Case Study zu DPD herunterladen

Nach oben