Fujitsu Cloud Solutions
Changing business, changing lives
Cloud offers obvious agility, speed and cost efficiency advantages and has gone from being an emerging trend to becoming part of the standard IT services delivery model for many organizations today.
From Fujitsu's perspective, we see cloud as having a key role in underpinning our vision of a Human-Centric Intelligent Society, one where social and business innovation is driven by the intelligent use of information and communication technology.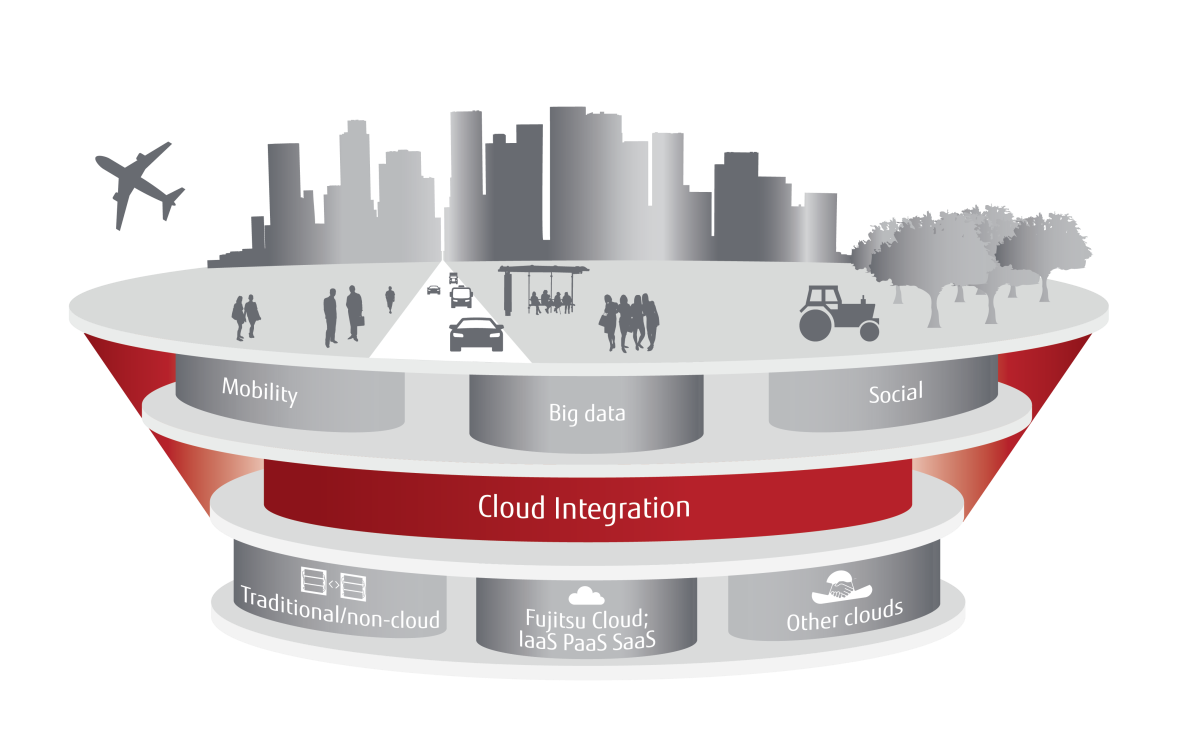 We see cloud as the natural platform for delivering these new types of applications as illustrated in the Fujitsu Technology and Services Vision 2014.
FUJITSU Cloud
Cloud solutions can enable a business to innovate and modernize, but one size doesn't always fit all. At Fujitsu we offer a range of cloud services, enabling organizations to maximize value and innovation from the cloud. With security and integration at the forefront of our trusted cloud solutions, we work with clients to adopt the right cloud solution and to make the adoption of cloud as seamless as possible.
Managing Hybrid IT
As cloud adoption surges we believe the next big challenge is how to offer the organization the flexibility so departments can choose the cloud services they need - while having the necessary governance and controls in place to mitigate risk and ensure compliance with corporate standards.
As organizations grow their portfolios of cloud services new challenges arise around the aggregation, integration and management of a hybrid IT environment of cloud alongside existing, traditional IT services.
We also recognize that no single cloud service provider can meet all customer needs, so we offer both our own range of cloud services as well as the cloud integration services to make it easier for the business to adopt cloud in a cost-effective and well-governed way.
The changing role of the IT Department
We believe the time is right for the CIO and their team to become "Cloud Enablers" pulling together multiple cloud services from different providers, making it simple for the business to adopt these and managing them through a "single pane of glass".
For more about these challenges please read our latest research in the "White Book of Managing Hybrid IT" (1 MB) and see the "Managing Hybrid IT infographic" (258 KB).
FUJITSU Cloud Integration Platform
The FUJITSU Cloud Integration Platform not only helps the IT Department to solve these issues, but significantly reduces the cost of operating a hybrid IT estate. It provides an agile platform capable of supporting the drive for innovation, while addressing the challenges of operationally managing a fragmented – cloud and non-cloud – architecture.
The strength of this platform is that it covers the 3 core areas needed for successful cloud adoption across an organization;
Cloud aggregation.
Cloud integration.
Cloud management.
The FUJITSU Cloud Integration Platform is charged on a pay-as-you-use basis and available as a self-managed cloud service or delivered by Fujitsu as a Managed Service.
Get our definitive "White Book" guides to:
Cloud Adoption
A business technology revolution
Download PDF
(2 MB/A4)
Cloud Security
Risk in the new ICT landscape
Download PDF
(2 MB/A4, 61 pages)
Big Data
Revolution in business analytics
Download PDF
(1 MB/A4, 66 pages)
Managing Hybrid IT
Maximizing the cloud, enabling innovation and redefining governance
Download PDF
(1 MB)
Download cloud whitepapers:
Cloud computing, a complex journey
Transitioning to the cloud is a complex journey. It is often marked by various commercial and technical challenges and risks. Therefore, it is essential to have a trusted, experienced partner at your side. You need a partner who can help you chart a roadmap that is as unique as the business outcomes you desire.
We at Fujitsu draw on one of the strongest cloud portfolios in the industry and the experience we have gained successfully supporting over 5000 cloud customers worldwide. Using our 30 years plus experience of delivering managed services we will support you get the most out of cloud for your organization.
For more information on Fujitsu's Cloud Services in your country please find your country homepage on the country selector.
Top of Page