- Human Centric Innovation : Fujitsu Belgium

Human Centric Innovation Case Studies
By combining people, information and infrastructure, we innovate with our customers. Our Human Centric Innovation film is based on solutions that Fujitsu has delivered around the world. In each case, bringing together our technological expertise and our customers' industry experience has enabled us to begin building a better future.
Choose an industry from the film to learn more: 
Manufacturing | Agriculture | Retail | Healthcare | Utilities | Others
Manufacturing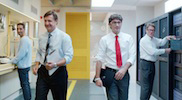 We work with power product manufacturer, Husqvarna, to improve productivity and reduce costs across their global operations.
Our technology expertise combined with Husqvarna's internal knowledge has allowed us to transform their global IT infrastructure, including server and network management.
The partnership has resulted in improved IT service levels and availability which help our customer to adapt to the changing market.
Agriculture
We work with Aeon Agri Create to improve farming infrastructure and enhance crop production.
By combining our infrastructure expertise with years of farming experience, we developed sensors and supporting technology that enables farmers to track, monitor and analyze data. This includes agricultural output, production costs and a wide range of environmental factors.
The result is a more efficient, sustainable and profitable agricultural operation.
Learn more about our work with Aeon Agri Create
Retail
We work with retail group Isetan Mitsukoshi Holdings to analyze data and improve customer experiences.
Our technology helps retailers gather and analyze data that was previously unavailable. This data, combined with industry knowledge, can be used to generate insights on staff performance and customer behaviors to improve service across stores and online.
This – as well as innovative point of sale and store managed solutions – helps transform traditional retail businesses into dynamic, digital organizations.
Learn more about our work with Isetan Mitsukoshi Holdings
Healthcare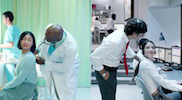 We work with Emory Healthcare in the US to empower medical staff – giving over 10,000 medical workers access to patient information in real-time and around the clock.
Our cloud computing capabilities, server management solutions and mobile devices make this possible. With these, staff can access vital patient information easily and focus on better treating those in need.
The result has reduced operational costs, increased efficiency and taken us closer to the future of health.
Learn more about our work with Emory Healthcare
Utilities
We work with Metawater in Japan to help engineers inspect and maintain water facilities - predicting problems before they occur and creating operational efficiency in the process.
A team of experienced engineers shared their knowledge of water plants with Fujitsu software developers. This enabled us to design augmented reality technology for use by engineers. The easy-to-use interface, accessed via a tablet PC, boosts efficiency and enables less experienced staff to provide high-quality services.
The result is set to become a new industry standard and will also help solve issues on a global scale
Learn more about our work with Metawater
Discover more
Fujitsu works with customers across every continent in every industry. Find out more about how our full portfolio of ICT solutions can help your business and learn more about our unique approach to innovation: 
Read more about Human Centric Innovation
Top of Page