Fujitsu Forum 2016 - Fujitsu Forum 2016 : Fujitsu Belgium

Driving Digital Transformation: Good Reasons for Attending the Fujitsu Forum 2016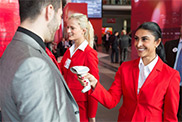 Fujitsu executives and representatives of the IT industry share their knowledge of technologies and trends in their keynotes: Exactly what CIOs need for driving the digital transformation.

In presentations and discussion sessions Fujitsu executives and experts highlight the opportunities and benefits to be gained from technology and process innovations: Ideas for IT managers and experts who aim to establish or further develop digital business platforms.

A comprehensive exhibition of products and solutions reveals how IT-environments can be improved through transformation initiatives: A wide range of options for IT managers, IT architects, and administrators supporting digital transformation.

Project managers describe their experiences and best practices in digital transformation projects: Advice and ideas that IT managers and experts can easily apply to their own transformation scenarios.

Researchers from Fujitsu reveal insights into current development projects and open up perspectives for future IT concepts and operations: Insights to support strategic decision-making for all who plan the longer-term aspects of digital transformation.

Informal meetings enable participants to communicate openly and share their know-how and experiences: A platform for exchanging ideas at executive level, with background information for analysts and representatives of the international IT and business media.
Top of Page