Fujitsu Cloud Service K5: Infrastructure as a Service
K5 IaaS simplifies your path to digital transformation.
The benefits of Cloud Infrastructure as a Service (IaaS) continue to be a major influence in driving cloud adoption. Powered by OpenStack technology, K5 offers enterprise grade Compute, Storage, Network and Virtual Machine capabilities, helping organizations to achieve:
Cost savings – no need to maintain or replace expensive hardware and a pay-as-you-use model.
Flexibility and scalability – enabling enterprises to easily provision infrastructure and computing capacity on demand and support agile application development and deployment.
Business growth – removing the need to manage and maintain your infrastructure, freeing up time and resource for driving new business.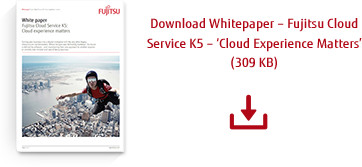 K5: Taking IaaS to new heights
K5 provides a global compatible platform to support both Systems of Record and Systems of Engagement, simplifying your route to digital transformation.
With K5 you can not only migrate and modernize existing enterprise systems, you can also integrate traditional and robust IT to create cloud native apps and micro services for accelerating your business growth. Built and managed solely by Fujitsu, K5 provides the security, governance and robustness enterprises demand, as well as:

Unique agility
Mix and match from a choice of public, virtual private, private and on-premises deployments, with the ability to move workloads seamlessly and scale rapidly.

Unrivalled availability
developed for the enterprise, with global scale and local presence, K5 provides 99.9% availability.

100% compatibility
Easily move workloads between public and private environments, and run your VMWare and Bare Metal workloads seamlessly on K5 for total flexibility and power.
Cloud Service K5 - powered by OpenStack
As a Gold member of the OpenStack foundation, Fujitsu is committed to developing open source technology for enterprise use. Through K5, this is enabling organizations to:
Minimise vendor lock in – allowing you to remain flexible to business change.
Reduce cost of ownership – due to open source licenses and reduced development times.
Enable digital co-creation and accelerate time to market – with the same architecture across all deployments, you can move workloads and proofs of concept between public and private clouds, without the need for retesting or recoding.
Why choose Fujitsu as your Infrastructure as a Service partner?
We draw upon one of the strongest Hybrid IT and Cloud portfolios in the industry and our experience in successfully supporting over 5000 cloud customers worldwide. Using over 30 years of experience in delivering managed services, as well as hosting critical systems for large enterprises and government departments, we can help your organization maximize the value of cloud.
We continue to move 640 internal systems to K5, bringing estimated savings of $300 million and unrivalled experience in migrating enterprise workloads to open source platforms – which in turn, will deliver unprecedented benefits for our customers.
Unlike other providers, with K5, we have the end-to-end cloud capability required for digital transformation; bringing together cloud services, software, management components and hardware into one enterprise-ready offer. All of this without the need for vendor lock-in or third party involvement to deliver an outstanding service.
With K5, we've created a complete vision for the future of cloud, so you can do incredible things.
Explore the entire Hybrid IT portfolio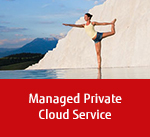 Nach oben